It took leaving home for Caroline Hill to realize how much she wanted to stay.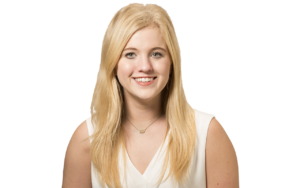 "I'd grown up with the Louisiana Tech community, which is a large part of my Ruston home," said Hill, who transferred this summer after her freshman year at Baylor. "I realized I wanted to be a part of that Tech family, and with Tech having the best return of investment (of any other school in the state), I'm better prepared financially for my postgraduate education."
A sophomore pre-med biology major, Hill wants to specialize in endocrinology and has "always had a love for science," she said. "Tech's biology curriculum best prepares me for medical school."
A personal discovery has a lot to do with Hill's professional focus; on July 11, 2011 she was diagnosed with Type 1 diabetes. Hill's goal is to help others with the same condition, both as a doctor and as a patient.
"Don't allow diabetes to define you or limit you in any aspect of life," she said. "Diabetes technology is here to make your life safer and easier. It's a day-by-day disease, but with a little extra planning and conscious effort, you can thrive."
Hill has helped re-charter the once-dormant College Diabetes Network (CDN) at Louisiana Tech, the only university chapter in the state. CDN aims to educate, support, and serve those struggling with diabetes. Since diabetes affects one in three people (prediabetes included), another major focus of the club is awareness and education throughout the community through various events such as health fairs. CDN is open to anyone interested.
Hill is the club's new president.
Recently, she was able to attend the American Association of Diabetes Educators National Conference where she was selected to be a panelist for Insulet Corporation. Headquartered in Massachusetts, Insulet is a medical device company whose mission is to make the lives of people with diabetes easier through the use of its product platform, Omnipod.
Hill joined the panel alongside many elites in the diabetes field — educators, researchers, doctors, and even an advocacy legalist. Representing a young adult patient, Hill spoke from a patient's perspective on everything from expectations, education, social aspects, activity, and her own personal management methods.
At the conference, she had only one goal.
"I wanted to share about my diabetes management and experiences with the different diabetes technologies — such as insulin pumps and continuous glucose monitors — since I have worn almost every piece of technology on the market," she said. "My viewpoint from a young adult with diabetes proved to be very valuable; I received lots of feedback and questions from the providers and educators."
Since diabetes is a "lifestyle disease," Hill believes the key factor in managing it is understanding it. Because technology plays a major role in diabetes management, Hill believes education becomes vital.
"Technology is so advanced; it's lifesaving and allows people with diabetes to live safer and more normal lives," she said. "However, there can be a stigma behind the disease and technology, so education is key to overcoming that hurdle."