When Louisiana Tech University's award-winning Division of Nursing held its traditional Pinning Ceremony in May, one of the 35 graduates, Kirsten Jackson, earned both the Academic Excellence and Spirit of Patient Care awards.
So to those who know her, it's no surprise that Kirsten, 21, is now both the youngest person on her nursing unit and the youngest person in her hospital's Specialty Training Apprenticeship program for Registered Nurses program, or StaRN.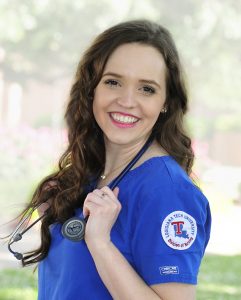 She lives in her hometown of Hammond and commutes the 30 minutes to Lakeview Regional Medical Center in Covington, where she's an RN on Lakeview's Stepdown Care (cardiac/stroke) Unit.
"I was nervous as any new nurse would be," she said of her first days on the job in late spring, "but I realized I had been exposed to the majority of everything presented to me, which was a giant boost in my self-confidence. Overall, I feel like Tech's nursing program provided me with more hands-on practice and opportunities for learning than I'd have gotten anywhere else."
The year-long StaRN program provides intense post-graduate training to newly licensed nurses; it combines classroom instruction, hands-on clinical skills training, and real-life simulation experiences to bridge the gap between 'student nurse' and 'new RN'.
"It helped relieve the anxiety I had," Kirsten said, "about stepping onto the floor."
The program began with instructional review and moved to skills practice, such as blood administration, tube feeding using a pump, and drawing blood. Kirsten and the other participants then had an entire week of simulation in which they ran seven scenarios a day in groups of five.
"You were assigned a role in each scenario so everyone was forced to practice all roles including Team Lead, my least favorite," she said. "But it challenged me to be a better advocate and practice being authoritative."
As a confidence booster, Kirsten recommends the program. "The staff is all about changing the 'eat their young' phrase and want you to succeed as a new grad," she said. "Everyone has been kind, patient, and encouraging."
She also recommends Tech's nursing program.
"After having the opportunity to speak with other new RN graduates about their nursing school experiences and learning atmospheres during the StaRN program, I quickly realized I made the right decision when choosing Louisiana Tech," she said. "Tech's Division of Nursing provided me with a solid foundation to begin my nursing career. You aren't just a number, but a member of Tech's nursing family, where you learn to know one another.
"The nursing faculty are some of the most down-to-earth, inspiring, and knowledgeable nurses I know," she said. "In addition to learning the content for each course, I was taught the importance of compassion, professionalism, and how to have fun. The clinical rotations provided a variety of perspectives and learning experiences, including inpatient, outpatient, and community locations. Most importantly, Tech made the nursing school experience very memorable and personal."