Leu Strange Wilder was born in Shreveport, and her early years were spent in Mooringsport and Plain Dealing. She graduated from high school in Coushatta in 1953.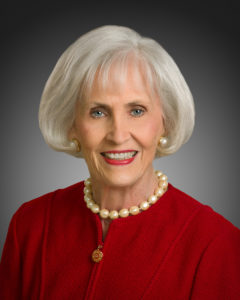 Wilder chose Home Economics as her major, and she was a Louisiana Tech cheerleader for four years. She served as a member of the Homecoming Court, State Fair Court, and Military Ball Court. As a member of Phi Mu sorority, she received the Best Pledge award and later became President. 
She received the Helen Graham Home Economics Award and was chosen as an Honor Freshman, the Outstanding Sophomore Woman, Secretary of the Student Senate, and a member of the Phi Kappa Phi honorary scholastic fraternity.
In 1957, she was chosen the first Miss Louisiana Tech. After her graduation that same year, she married Dr. William M. Wilder of Ruston. They lived in New Orleans where she taught Home Economics at Warren Easton High School and her husband completed medical school at Tulane University. 
Dr. Wilder then served with the United States Air Force Medical Center, and the family left New Orleans. In 1965, the Wilders moved to Shreveport, where she has lived since.
While living in Shreveport, Wilder became a member of the Shreveport Medical Society Auxiliary serving as president for one term. She is an active member of the Broadmoor United Methodist Church and has been the pianist for her Sunday-school class for 50 years. She \ wrote a cookbook of favorite old recipes, which was so popular it lead to her being invited to appear on national television in Nashville and Los Angeles.
Wilder has served Tech as a member of the University's Foundation Board, and she and her husband created the Wilder Golf Scholarship for team members chosen by the athletic department. Two of her three children and one granddaughter are Tech graduates, and her extended family includes many Tech graduates also. 
Wilder continues to have a strong relationship with Louisiana Tech. She has been named the College of Applied and Natural Sciences Distinguished Alumna for 2018-19 and the School of Human Ecology's Distinguished Alumna for 2018-19.