Orie Morris knew he wanted a career in forestry, but what he didn't realize was the passion he'd develop for what he calls "the art, science, and business of practicing forestry."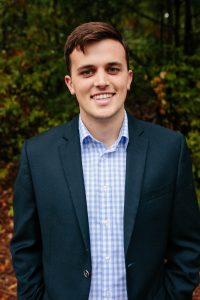 "Forestry combines practices from several different disciplines," said the May, 2019 B.S. degree candidate. "Sound science drives the industry, but applying that scientific knowledge in the field can become challenging. Applying science in the field is not always cut and dried, therefore we describe forestry as an art. Ultimately, our goal is to generate income through the sustainable management of our forests."
Orie grew up in small-town Rayville where "the time I spent outside instilled in me a love for the outdoors," he said, "and like many others in the field of forestry, that love blossomed into a desire to pursue it as a career.
"I also fell in love with the people that comprise this great profession, and I take great pride in the fact that I can call myself a member," he said. "I've heard them described as being very 'down to earth' or 'salt of the earth' people; in my experiences, I've found this to be true."
Each Louisiana Tech class in this academic program provided "unique challenges" and one wasn't really more difficult than another, but it was instead in many of the lab settings that "we got to go out and interact with many people in the profession," Orie said. "These interactions solidified my desire to pursue a career in the field of forestry."
Today Orie, 24, and his young family — wife Emily and their 15-month-old son Oliver — live in Farmerville and are "excited about our future as I graduate and find a job," he said. "I'm thankful for the opportunity Louisiana Tech has given me to study under the leadership of reputable professors.Now I hope to find a company where I can contribute my skills and knowledge, and grow and learn from those who've practiced forestry for many years."
His advice for prospective forestry majors is to "consider getting a business minor" and "get experience working in the profession early" during their academic careers.
Get those things, he said, and get outside.