Louisiana Tech University's Early Childhood Education Center (ECEC) was one of only five child care centers in the state of Louisiana to be rated with five stars, the highest rating given in the state this year.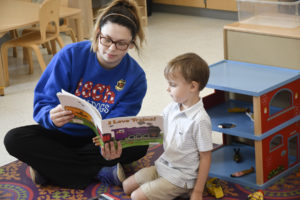 The ECEC is a preschool learning laboratory for 3- and 4-year-old children and provides learning opportunities for Louisiana Tech students in the Family and Child Studies academic program.
State assessors visit licensed child-care centers to observe teacher and student interaction, classroom teaching behavior, and classroom content. Often, they come into a center with very little notice, according to Laura Chestnut, ECEC director.
"A child care center is contacted to say that the Picard Center is sending an assessor in to evaluate at least one teacher within a month," Chestnut said. "Teachers never know the day that person might arrive or who will be chosen."
In addition to the 33 preschoolers who attend ECEC, Tech students in nursing, speech pathology, education, and family and child studies have the opportunity to study, complete research and apply theory related to their academic programs.
"The rating means that our college students are learning developmentally appropriate strategies for children in the realms of social emotional, physical, and cognitive development at one of the top child care centers in the state of Louisiana," Chestnut said. "Louisiana is one of the most progressive states in early childhood education, and Louisiana Tech is one of the most progressive schools in the state for learning about the field.
"We are graduating future practitioners who know the best strategies for working with young children and who will be leaders in their field."  
The ECEC was the only child-care center in north Louisiana to be recognized with a five-star rating this year.