Fashion is a lot more than a little black dress or no white bucks after Labor Day.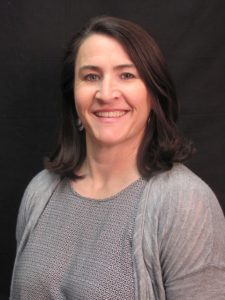 In Louisiana Tech's Fashion Merchandising and Retail Studies program, students have class debates on all sorts of current issues that affect the fashion industry: politics, government regulations, human rights, sweatshops, or sustainability.
The students have labs designed to illustrate how what's learned in the classroom will be applied in the working world.
They take field trips to fashion shows and corporate offices, learn the tricks of the merchandising trade, even construct dresses out of everything from shower curtains to newspapers.
"I really like how the program is designed to provide students with hands-on experiences to real-world applications through study tours and class projects," said Dr. Kathleen Heiden, Associate Professor, Fashion Merchandising and Retail Studies. "I'm always amazed at the creativity of our students and what they produce in their classes. The program is working to develop more industry connections and connecting current students with alumni who work in different sectors of the industry."
A Ruston High graduate, Heiden learned to sew around age 7 from both her grandmother and her mom, Nancy Tolman, who retired as associate dean emerita after almost 30 years of service to Tech as a professor in nutrition and dietetics and associate dean for graduate studies. She began making simple clothing and home furnishings in elementary school and, by high school, was altering commercial patterns to create her own designs and even teaching sewing classes to children.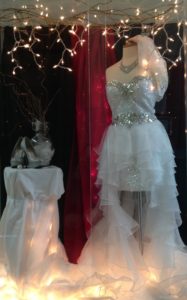 She earned her B.A. in Apparel and Textile Merchandising from Tech and her graduate degree at the University of Nebraska, where Heiden won the grand champion prize for her apparel designs in the college design competition and, more importantly, met her husband, Troy.
After graduation the couple moved to Dallas where Heiden continued the career she'd begun at age 7, except now she was working at JCPenney Corporate in the girls division. She was a grand champion award-winner there too, for apparel design, in both 1995 and 1996.
When Kathleen and Troy had the first of their three girls, she began working from home as a costumer for a local shop. After their third baby was born, the family wanted to leave the city — so they moved to Ruston, where Heiden got a phone call from the University, at the time in need of a merchandising instructor. She began teaching at Tech in the fall of 2003.
"I didn't find it hard to transition to teaching," said Heiden, who earned her PhD in Family and Consumer Sciences Education from Iowa State in 2007. "While there are times I miss working full-time in the industry, I enjoy teaching. As a faculty member, I have the opportunity to mentor young adults while providing them with a quality education.
"Mentoring to me is investing in students by pushing them in ways they don't think possible, developing a passion within students for their profession, and believing in them when they may not believe in themselves," she said. "Many times I don't realize my influence on students until after they've graduated and become a professional. After graduation, students have written thank-you cards to express their appreciation or they've called to let me know they've received the position they applied for and they want to say 'thank you' for preparing them for that."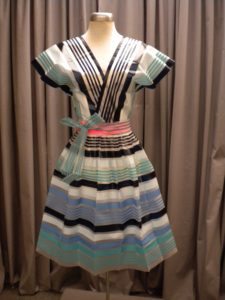 Fashion, she said, is a "big umbrella" that covers a variety of industry aspects, from design to manufacturing to retailing "within a framework of providing products for customers that provide an avenue for demonstrating individualism while conforming for social acceptance.
"Fashion should reflect who is wearing it," Heiden said. "Our appearances are a form of nonverbal communication that tell others about ourselves before we ever speak. For me, working in fashion has always been more about design and serviceability of products to meet customers' expectations than about following specific brands/designers or retail stores. Today, fashion is available at all price points and is more about style than brands."
The best outfits her students conceive, she said, "come when students don't limit their thinking to the traditional or primary use for the materials and instead let their creativity lead the design."
Tech's Fashion Merchandising program represents a dynamic industry that continually changes — so the program does too.
"While merchandising concepts are still the same, technology has changed the fashion industry." Heiden said. "Designs, patterns, and even some construction are completed using computers, and retailing and promotions have changed with the internet and social media. The program is continually evolving to ensure that graduates are prepared to work in a global, technology-focused industry."
It's why debates and labs have evolved as part of the program.
"I believe students need to be familiar with the issues and be able to defend their position," Heiden said. "I'll have class discussions and debates so students will consider the effects of controversial issues on all individuals involved. For example, in Global Issues class we discuss if sweatshops should be used for manufacturing. We look at what defines sweatshops and how not using sweatshops would affect customers buying the products — prices would increase — as well as how individuals who work there be affected: how will they provide for their families if there isn't a place to work?"
Naturally, labs vary from course to course, but the goal is the same: illustrate classroom work with real-world application; here are some examples:
Visual Merchandising: Students work in groups to design the interior and exterior environment of a retail store. Labs include creating "planograms" (diagrams or models that indicate the placement of retails products on shelves) and implementing wall displays, table displays, window displays, and creating signage;
Textiles: Students learn how textile properties affect product performance. Activities include burning fibers, testing colorfastness of fabrics, shrinkage of fabrics, and appearance retention after laundering;
Event planning: Students produce a fashion show and assist community partners with special events;
Clothing Construction: Students learn to sew and complete projects that incorporate construction techniques; their final project in the course is to sew a garment of their choice.
One of those students is Taylor Heiden, who will graduate in fashion merchandising — "Just like her mom," Kathleen Heiden said — in May; Taylor is working on her realtor's license and hopes to start selling houses after graduation. Little sister Rebekah is a high school junior, and Kaitlyn, the oldest, graduated last spring with her BS and is currently working on her MS in education and will also graduate in May. She's engaged and getting married this spring, then moving to Miami where the groom-to-be, Caleb White, also a Tech grad, is in medical school.
There won't be any need for wedding dress shopping outside the Heiden home.
"While I no longer work full-time in the fashion industry, I still get to do what I love — custom design," Heiden said. "I'm about to begin designing and making Kaitlyn's wedding dress and would love to expand my designing to build my business."