Unlike most of her friends at West Ouachita High, Julia Morrison wore bold colors and prints together, outfits that had a risky but whimsical Betsey Johnson look and feel, quirky and fun and out of the box.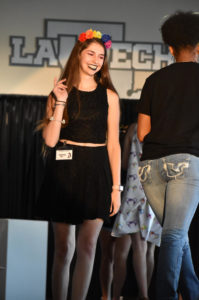 As a Louisiana Tech senior, she's kept her fashion foot on the gas by adding bold makeup. And she does it because … that's just her.
"The biggest mistake people make with their fashion choices is not being confident to wear what they want to wear," Morrison said. "I am always hearing, 'I love this, but I can't pull this off,' and I want people to be able to express themselves in what they like to wear rather than what others think of it."
Morrison, who'll earn her degree in fashion merchandising and retail studies this spring, hopes to begin work as a visual merchandiser and eventually open a bridal boutique in Ruston. It's a dream she's had since she was a child, drawing clothing designs and "playing dress-up" with friends and never missing "Say Yes To The Dress" or "What Not To Wear" on television.
During her senior year in high school, the dream turned into pursuit when she visited Tech's School of Human Ecology, "exactly what I needed," she said, "for me to know that I wanted to be a part of the Fashion Merchandising and Retail Studies program."
Today she has a small business, CelebrateByJu, run primarily through social media platforms such as Instagram and Facebook and Twitter. Customers contact Morrison through direct messages or comments. 
"I am blessed that my small business has reached customers all the way from California to New York to Miami and so many places in between," she said. "My 'ears' have traveled to Disneyland, Walt Disney World, Disney Cruises, Disneyland Paris, and Shanghai Disney."
Yes, she's hip to Disney. She designed and showed her own collection of Disney accessories when she took Event Planning last spring under School of Human Ecology instructor and College of Applied and Natural Sciences Development Director Penny Humphries, "one of my favorite opportunities our faculty has provided us," Morrison said. "Ms. Penny, my classmates and I spent countless hours working on putting together a successful fashion show for local businesses and my classmates' designs as well."
Morrison's collection included a variety of handmade headbands with flower and wire detail customized for each individual customer's trip to Disney. She also included a T-shirt design from her TeePublic shop.
"The guidance and support of our faculty and my advisor have helped me in countless ways," Morrison said. "My advisor has helped me organize my schedule and select classes that are allowing me to obtain my minor in marketing. Our faculty has also provided us with many opportunities; those include a fashion trip to Dallas where we visited Dallas Market, a couture fashion show, and corporate offices. We were allowed to compete in Ruston Fashion Week's design contest; I was in the top four finalists."
She's been a member of Tech's Fashion Republic since enrolling at the University and is in her second year as the group's Secretary/Treasurer. Fashion Republic is a fashion merchandising organization that allows students studying fashion to meet monthly and take advantage of community service opportunities for Tech and for Ruston.
"We help each other grow stronger in our professional and personal lives, and we give back to our school and community at the same time," Morrison said. "I am thankful for the School of Human Ecology and so blessed with the sweet friendships I've made."