When Tki Francis Pullins was a little girl in Bossier City she'd go to her mom's closet "and try on clothes and put outfits together of what I thought she would wear," said the 2011 Louisiana Tech Fashion Merchandising and Retail Studies graduate. "Growing up, I loved her sense of style."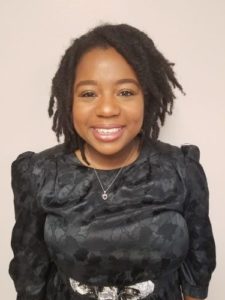 Now Pullins is grown with not only a style of her own by a clothing line of her own. Real Gunkie — pronounced with a "J" — was born when she started revamping old jeans.
"I would dye the jeans and add adornments," said Pullins, who moved to Slidell and then to New Orleans after leaving Tech and started designing clothes on her own two years later. "I would even make earrings out of jeans. The first name of my line was Junkie Jeans but that quickly changed to Real Gunkie after I got a following and then began making clothes for myself.
"My husband would have events just so I could have fashion shows and showcase my talents," she said. "I've always been addicted to fashion and clothes. I feel as though everyone has an addiction — just make sure it's positive. That is how I came up with Real Gunkie."
Since the birth of Real Gunkie, the line has been featured in several fashion shows, Pullins said, including Raw New Orleans, Raw Austin Texas, Rock the Runway Essence 2017, New Orleans Fashion Week 2018, The Renaissance Fashion Show during New York Fashion Week 2018, and the Let the Good Times Roll Festival in Shreveport.
She's been invited to show her clothing line during L.A. Fashion Week and recently launched her Real Gunkie Fashion Program, a free fashion camp to educate youth.
"I am having the 'LA. To L.A. Benefit Fashion Show' with five other designers in Bossier City on Jan. 20 to raise money for my youth program as well as to send me to L.A. Fashion Week," she said. "In my show on the January 20, there will five designers as well as myself."
The fashion program at Tech, she said, prepared her "to enter into a variety of things in various ways. I remember the fashion shows put on by my classmates and myself where I worked backstage as a coordinator. My most memorable classes were textiles, sewing, pattern making, and visual merchandising.
"My most favorable experience was when I was a freshman and had the opportunity to go was to Dallas to explore various careers in fashion merchandising," Pullins said. "Not only were the classes a part of my success, but also the relationships developed with my classmates, the faculty, and staff are ones I will cherish for a lifetime."
With her Tech classmates that day in Dallas, Pullins went to the corporate JC Penney offices; she later applied for a job with the company and was offered a stipend to move and a signing bonus to join JC Penney as a management trainee in Slidell.
The dream now is to have her own design studio open to the public for shopping and to develop a non-profit "dedicated to the youth and the arts," she said.
Her personal style, Pullins said, "is vintage mixed with modern chic," And the one outfit choice she wishes she had back was during the "fad when loud, bright colors from head to toe were the thing to do; I would pair the outfit with lots of bracelets!"
Pullins, who mostly sketches or is inspired by her surroundings for her garment creations, doesn't dress DayTon Alonzo Pullins that way; he's the couple's baby boy.
"He doesn't really have a 'personal style' at this point so I dress him in what I think is cute," said the Airline High graduate. "My favorite thing to put on him are shoes; it's weird, but for an infant, he has lots of shoes."
Fashion classes began early for DayTon: at a month old he was in his bassinet in the sewing room while mom worked on her designs.
"I'll teach him about what to wear and when to wear certain clothes, how to dress for the occasion," she said. "I think he'll naturally be interested in style."