Shreveport native Katie Bakalis knew from a young age she wanted to be a veterinarian. The junior in Animal Science with a concentration in pre-veterinary medicine gives credit to her parents for supporting her from the beginning and giving her so many opportunities to volunteer and work at what she loves.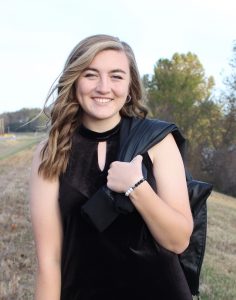 "I have wanted to be a veterinarian for as long as I can remember. I feel like it is a desire I was born with. I was lucky enough to find my calling very early in life and have not looked back once," said the Agricultural Ambassador for Louisiana Tech University.
When Bakalis toured Louisiana Tech for the first time she said it was a "perfect fit" and the hands-on experience was important to her to grow and learn in her desired field of study and that is why she chose Tech to study for her undergraduate degree.
"South Campus at Louisiana Tech has truly become a second home to me. Working in the School of Agricultural Sciences and Forestry has given me so many unforgettable experiences and amazing friends to make memories with," said Bakalis, who is also the president of the Pre-Vet Club at Tech.
 "I have become close with several of my professors at Louisiana Tech. I consider both Dr. Murphey and Dr. Green to be my mentors. They have shown unwavering confidence in my abilities, and because of the opportunities they have given me, I have built a diverse set of skills to help me succeed in veterinary school. I am very thankful to have had these men guide me through my undergraduate career," Bakalis said.
Bakalis has recently applied to the Louisiana State University School of Veterinary Medicine. She hopes to gain a Doctorate of Veterinary Medicine (DVM) degree as well as a PhD. Bakalis also wants to own her own mixed practice and eventually use her PhD to teach at the university level to pass on her love of animal science.