Kenneth Cook came to Louisiana Tech from St. Aloysius High in his hometown of Vicksburg, Mississippi, as an 18-year-old with "no idea," he said, of what he wanted to do.
Still, he came. More than that, he studied, even though he wasn't happy in the major he'd chosen. But because he was in Prescott Memorial Library studying calculus one day with a couple of friends, he'd put himself in position to learn something about himself he hadn't known before.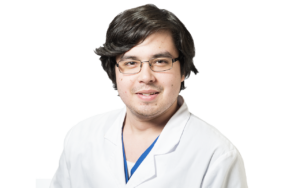 "I'd always liked science as a kid, especially the natural sciences," Cook said. "My interest was cultivated by my grandfather who used to give me National Geographic and explain the natural world to me when I was a kid … I'm exceptionally lucky that my friend Audrey Dethflesen noticed my interest in one of her microbiology notebooks."
Cook was studying calculus. Dethflesen was studying bacteria. Different strokes for different folks.
"You seem like you would like what a med tech does," Dethflesen said. Once she explained the responsibilities and challenges of a medical scientist to him, Cook knew what he wanted to do; he was a Medical Technology major by the end of the week.
"I haven't had any regrets since," said Cook, on schedule to graduate in August.
Fueled by both his natural love for science and his open mind, Cook, either when duking it out with Clinical Chemistry (Biological Sciences 344) or wrestling amoebas in Parasitology recently in clinicals, has held onto the possibility of daily wonder through a quote by Carl Sagan: "Somewhere, something incredible is waiting to be known." The passion is there.
"I had a good feeling that I was going to make it to clinicals when my advisor signed me up for 16 hours one quarter," Cook said, "and I got through them in one piece."
Graduates of the program in Medical Technology are required to complete one calendar year (32 semester hours) of professional course work in an accredited clinical training program affiliated with Tech; Cook is at Rapides Regional Medical Center in Alexandria.
"The students at clinicals split time between a lecture and laboratory," he said. "In the lecture we learn about the science behind the tests or diseases, while in lab we apply that knowledge to find patient diseases and conditions."
The most valuable trait a student should have during clinicals, Cook said, is time management and good study skills. "I have had five tests in 48 hours and literally had to manage my sleep, eating, and social life down to the minuets to get through them," he said.
It will all be worth it — completing his clinical rotation and working part-time while attending grad school in medical microbiology — when he's hired as a researcher involved with microbial antibiotic resistance or virulence factors.
"For resistance factors I would most likely research how a bacterium is able to gain resistance to an antibiotic," he said, "how common is it in the population of bacteria, and what if any options are available to combat it.
"As for virulence factors," Cook said, "I would be looking at how a bacterium is able to harm the patient/host, and whether this is due to either bacterial toxins or the patient's own immune system over-responding to the bacterial infection."
Learning those kinds of things requires school, and Cook is convinced he chose a good one.
"My experience at Tech has been great," he said. "I really do like how the professors are relaxed and approachable. I really enjoy how the campus is close-knit; it's felt small enough that you knew most people in your classes but not large enough that you were intimidated by waves of faceless strangers in your departments.
"I'd like to thank Louisiana Tech for giving the opportunity to meet some of my best friends," he said, "amazing professors, and the best advisor in the state."