Junior animal science major John Michael Stalling is the son of Guatemalan immigrants who credits growing up on a thousand-head cattle ranch in Oak Grove with his interest in becoming a veterinarian.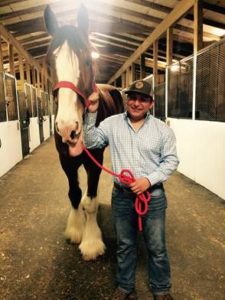 "The ranch where I received so much experience influenced my wanting to be an animal science major," Stalling said. "Working so closely with family, friends and the community allowed me to develop a sense of responsibility and confidence within myself to pursue this degree. Also, a lot of my influence comes from my local veterinarian who would come and doctor our cattle. He was a person who was always great at his job and was not afraid to use his skills to teach and inform."
Stalling is a member of Pre-Vet Club, Alpha Zeta Honors Fraternity, represents the School of Agricultural Sciences and Forestry as an Ag Ambassador and is also serves as vice president of Block and Bridle.
Faculty in Louisiana Tech's College of Applied and Natural Sciences have served as mentors and part of the driving force for Stalling's educational journey.           
"The faculty that makes up South Campus is a group of hard workers who have been strong mentors to me," Stalling said. "They have passion for what they do and are willing to push you to become successful. Doctors Green and Keith are two of my strongest mentors. They are great advisors and wonderful people to work with. I am very blessed to be where I am at today and will hopefully continue to propel forward.
Just recently, Stalling submitted his application to Auburn School of Veterinary Medicine (SVM) and LSU SVM. His goal is to enroll in fall 2019.
After Stalling graduates from vet school, he would like to join a mixed-practice hospital and begin working. He'll also continue to learn and advance his career. Pharmaceutical veterinary medicine has interested him and he would like to evaluate his options in that field in the future.