The world would be a bit better, Caroline Savage Cascio feels, if we each looked inside a bit more to discover and share the things most important.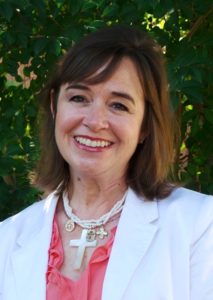 "Invest your time, talent, and treasure in causes that matter to you," she said, "and use your influence to encourage others to do the same."
As a clinician and now president/CEO of The Wellspring in Monroe, a charitable not-for-profit organization offering programming in, among other things, mentoring, counseling, therapy and residential and non-residential survivors of domestic violence, Cascio speaks from experience.
"I am both honored and humbled to lead the charge in accomplishing our compelling mission:  To strengthen and value individuals and families through professional services and community leadership with compassion and integrity," she said.
"My introduction to Family Systems Theory in my undergraduate studies at Louisiana Tech ignited a passion for serving and helping families who struggle with challenges large and small," she said. "I am beyond grateful for the wisdom and guidance of my instructors and advisor who helped me chart the course for this most rewarding career."
One of the most interesting things she learned in Family Systems Theory was the importance of context when explaining or understanding human behavior.
"A child's 'acting out' behavior may actually be a 'symptom' of marital discord," she said. "The misbehavior gives the parents something to focus on besides their anger with one another. In studying patterns of interaction, one can often make sense of behaviors that might seem 'bad' or 'sick' on the surface and find small ways to change the context to eliminate the unwanted behavior. It's a shift in viewing things using a very negative lens to one that demonstrates how resourceful human beings actually are."
She attended St. Frederick High in her hometown of Monroe before enrolling at Tech and studying education.
"I thought I wanted to be a child psychologist," she said. "I knew I wanted to go into the 'helping' field, and I was interested in working with children. When I started at Louisiana Tech, I wasn't sure that I was ready to commit to the advanced degrees that I knew I would need to become a licensed psychologist, so my initial major was Early Childhood Education."
It was during her senior year that she learned of the Marriage & Family Therapy (MFT) graduate degree at (then) NLU, changed her major to Child Life & Family Studies, graduated, and was accepted into graduate school to "pursue the dream I had," she said, "of becoming a clinician."
She still models much of her practice on the skills and ideas she discovered through the willingness and wisdom of faculty who invested in her.
"Dr. Janie Humphries was my advisor, and she helped me understand so much about children and how their miraculous minds work," Cascio said. "She also helped me stay focused on my graduation plan and the requirements set forth in our curriculum.
"Dr. Ben Silliman was the person who told me about the MFT program and pointed me in that direction in terms of my career path," she said. "I also took sociology courses under Rose Daigle. In addition to her faculty position, she was also a Marriage and Family Therapist. Her stories were both fascinating and engaging, and really piqued my interest in the field of Marriage & Family Therapy."
One of seven children and now as a wife and mother of two children, Cascio said that "family is something I value above all else," and it's that dynamic she tries to help and heal as a clinician.
"Both as a clinician and as President and CEO, I can honestly say that there is never a dull moment," she said. "The thousands of people who walk through our doors each year each bring their own story. They all have incredible strengths and they all have unique challenges. Many times they need a bit of help in tapping into their strengths to grow and overcome the challenges they face.
"As a clinician, I might see a victim of sexual assault one hour, and a child with behavior issues the next," she said. "As President and CEO, I may convene community meetings, engage with our Board of Directors or donors, or work to meet a very tight grant deadline.  Adaptability has served me well over the years, both as a clinician and as an administrator."