The right teacher at the right time can make all the difference.
Brooke Hancock "fell in love" with the idea of being an agriculture teacher her senior year in high school, she said.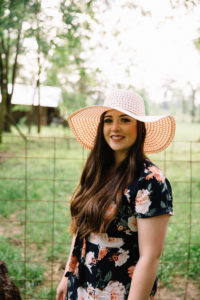 "My Ag teacher, Angelia Murphy, was such a great role model throughout high school (in Choudrant) and during my senior year," Hancock said. "She poured so much extra time into me and my FFA career, and I decided then that I wanted to be able to encourage and inspire future generations of Ag students and FFA members in the way that she did for me."
The National FFA Organization is a student organization for those interested in agriculture and leadership; Hancock is on track to be awarded her degree in Agriculture Education with an Animal Science minor in May. She'll become the first person in her family to earn a bachelor's and hopes "to jump straight into a teaching position," she said.
Her passion for agriculture and all things related to the National FFA Organization are evident.
"I believe in the leadership skills and work ethic that are learned through agriculture sources," Hancock said. "I'm also passionate about the futures of our youth; I believe that teachers, of any kids, are some of the most influential people that pass through a child's life.
"My time at Louisiana Tech has been an amazing experience thanks to my professors and friends made throughout these last three-plus years," she said. "(Tech Agricultural Sciences and Forestry instructor) Track Kavanaugh has been a lifesaver, an advice giver, someone to kick my butt into gear when I was just about ready to quit, and he tells the BEST stories! I wouldn't have made it this far without Track.
"Dr. Ashley Keith has been another professor to really push me to do better," she said. "Dr. Keith is the kind of teacher that you hate to disappoint; she always holds you accountable for your actions and work. I'm thankful to have had the opportunity to study under several of the South Campus teachers, and they have all had an influence on the person I am today as well as the kind of teacher that I hope to be someday."
A mom to Alexa-Mae (5) and Amellia (2), 25-year-old Brooke and her husband Seth live in Choudrant, are youth leaders at Holmesville Baptist Church in Downsville and part of the KAIROS Torch Juvenile prison ministry.
"I truly feel called to be a teacher," she said, "and I think that being an Ag teacher and FFA advisor is exactly where I need to be. I'm not sure where God is leading me to teach just yet, but I'm hoping to stay close to home and be in Lincoln, Union, or Ouachita Parish."