Brandi Nava came to Ruston and Louisiana Tech from Covington with the wish to be an architect.
But "over time, as I completed courses, I knew my heart did not belong there," she said.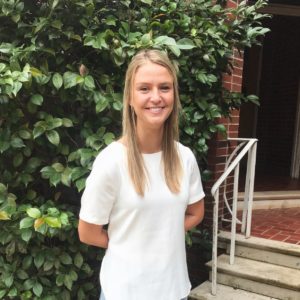 She took the time to think hard about her interests and hobbies: playing outside as a child, hiking in the mountains, appreciating everything that was growing … And then it hit her. Because of that, this summer she's expected to earn a degree that should allow her to become a professional landscape architect, a choice that means the best of two worlds for her.
"Redirecting my education to study agricultural business with a concentration in plant science has refueled my passion for learning and my interest in research and future employment," said Nava, the current president of Tech's Greenscape club. "My hope is to share the gift of plants with many others."
Her plan is to pursue a graduate degree since she was taught early on to treasure education.
"One particular person that has made a major impact in my life is Mr. Les Heidelberg," Nava said. "Mr. Heidelberg was my teacher in junior high school and my employer at 21st Century Community Learning Center during high school. He stressed the importance of school on my future and the importance of developing relationships with others."
Dr. Paul Jackson, researcher and associate professor in Tech's Department of Agricultural Sciences and Forestry, "expresses enthusiasm in his class and includes field trips into our learning structure, which has allowed me to gain ideas and interact with other educators and business owners," she said. "Dr. Jackson also provided an opportunity for me to work as a student horticulturalist at the President's Home for Dr. and Mrs. Les Guice. In this position, I receive experience in designing, planting, and maintaining many different plants and areas."
No surprise that one of her favorite quotes, this one from Brazilian novelist Paulo Coelho, contains a word often associated with plants: "Reprogram yourself every minute of each day with thoughts that make you grow."