Something as simple as an elective class in medical terminology introduced Louisiana Tech graduate student Brittany Taylor to her career in Health Informatics and Information Management (HIIM).
When she came to Tech from her hometown of Shreveport, she knew she wanted to pursue medicine but was unsure of her niche. Even throughout her undergrad career in HIIM — she loved all her classes and excelled in the program — she wasn't sure what she wanted to pursue professionally. She just knew she wanted to be in healthcare.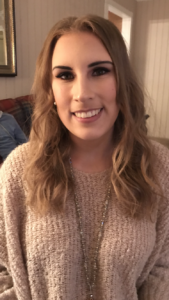 "In the fall of 2016 I started my working career in HIIM while still going to school full-time to complete my bachelor's degree," she said. "I started at the bottom of the food chain and have continually worked my way up, soaking in each new task and learning everything possible.  When I graduated in the Winter of 2016-17, I knew that my school career hadn't quite yet been completed. I had toyed with the idea of beginning the master's program at Tech but wasn't quite sure if it was exactly what I wanted."
That changed in the Summer of 2017 when she attended a conference featuring Dr. Angela Kennedy, a former Tech professor and, since 2013, the president and board chair of the American Health Information Management Association (AHIMA).
"I listened to Dr. Kennedy and was hooked," Taylor said.
She began pursuing her master's in the Fall of 2017.
"The program has been a learning curve for me, but I have thoroughly enjoyed my time in the program," Taylor said. "The thing that excited me most about HIIM is the field is always changing. With healthcare becoming so electronic as an industry, it's been a blessing that I joined the workforce when I did. Being fresh out of college and diving into a field that is reinventing itself has provided me many opportunities."
Because she grew up with computers and is still learning as the industry is evolving, she's been able to bring a fresh outlook to those she works with who've been on the job for years.
"As I continue to learn throughout the rest of my time in grad school as well as gain experience in the workforce, the only word I can come up with is 'excitement,'" she said. "Health Informatics and Information Management is an exciting field with endless possibilities and an incline in growth. I'm still unsure of exactly where my niche is and I'm unsure if I will ever find it exactly, but it keeps me from getting complacent and I am grateful for that."