A quote from Nelson Mandela that Louisiana Tech senior Charles Adeola likes to carry around with him is this: "It always seems impossible until it's done."
Adeola came to Tech for lots of reasons.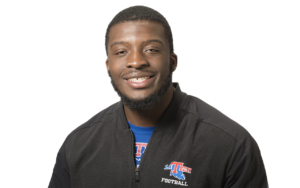 One was to get his degree in agricultural business — he'll graduate in February with that and a minor in business administration.
He came to play football, even without a scholarship, and has been part of a program that's won five straight bowl games in five years; Adeola has played a role in the most recent four. In Tech's 31-14 win over Hawaii in the Hawaii Bowl in December, Adeola and teammate Courtney Wallace shared the final sack of the game.
And he came to develop relationships, which he's done in spades.
"He's the perfect example of a guy who takes care of his business the way you're supposed to," said Tech strength and conditioning coach Kurt Hester. "On the field, in the classroom, in the weight room: he does everything right."
When Adeloa begins thanking people who've helped him make what at times seemed impossible possible, the list is exhaustive.
"Many people have influenced me in my life," he said, "but first I would like to thank God; without him none of this would be possible."
He thanks his parents, Francis and Grace, "who taught me to always work hard, respect everyone, and to stay humble," he said.
Then he thanks his agriculture teachers at Northshore High, his Tech teachers, his coaches, and finally his teammates, especially All-America defensive end Jaylon Ferguson "for always helping me believe in myself," he said. "All of these individuals and many others have made great contributions to my life."
His professional dream of being a land banker or opening his own agriculture-based business began as a boy because of his love for the outdoors and his father's hobby. "We were always in the backyard planting something," he said, "either peppers or potatoes or something. I was always out there helping my father in the garden.
"I came to the decision of choosing agricultural business as my major because not that many people are aware that agriculture is involved in every aspect of society," he said, "and when you combine the knowledge of the business world, you can really go far. Choosing Louisiana Tech was not just a decision for my athletic career; it was a decision that helped improve my character and gain priceless knowledge and helped me really appreciate agriculture."
His plan is to pursue his graduate degree in business administration at Tech. He still has a year of football eligibility remaining, yet it would be no surprise if he instead decides to concentrate fully on his studies.
But it would be no surprise if he decides to play football for one more fall, either.
"I love my teammates. Every day we have a laugh, we really have fun," he said. "And I just love the game; I just love to go out there and play."