You don't need a Geographic Information Science (GIS) degree to find Polokwane, South Africa, home to Louisiana Tech GIS senior Mapula Nomvula Kgoale.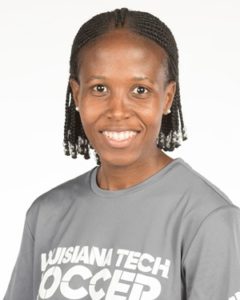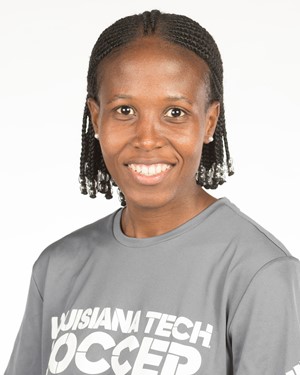 "Four hours from Johannesburg, which is one of the big cities in the country apart from Cape Town and Bloemfontein," said the senior soccer star.
It's a good thing Louisiana Tech found Nomvula, who has scored as both a student and an athlete.
She's a two-time All-Conference USA soccer star, has been named to both the Conference USA Commissioner's Honor Roll and All-South Region Scholar twice, and is a member of the 2017 C-USA All-Academic Team.
"I was very excited when they had an interest in me," said Kgoale, who had played against the Lady Techsters when she was a member of the Tyler Junior College team. "I didn't have to approach them and say I'm interested in the school; they approached me."
She also spent a year at Lindsey Wilson College and led the Blue Raiders to an NAIA National Championship. This is her third and final year at Tech.
She's been about service at Tech, too; Nomvula serves as secretary of the University's African Student Association (ASA).
"The organization is fairly new, since it was founded April of 2017," Kgoale said. "The core of the organization is to encourage the concept of "UBUNTU," which is a Zulu word from one of the 11 languages we speak in my country of birth, and it means 'I am because we are,' so words such as togetherness, compassion, and kindness embody it."
Geographic information science might sound like a foreign language, but simply it's a scientific discipline that studies data structures and computational techniques to capture, represent, process, and analyze geographic information. It's about data and knowing how to gather and use it.
"For example, the government may want to know the amount of crime that occurs in (an area)," Kgoale said. "So you would go to that area and gather the data. A lot is done on the computer, but the real data (is obtained) by going out and getting it. Gather, analyze, and then present your findings."
What she'll do with her degree is a ball that Kgoale is still kicking around, and very honestly.
"I do not plan much as I've learned that things can turn around quickly no matter how well one plans," she said. "However, I could do the usual thing of just going to find a job or test my soccer abilities at the professional level. I am uncertain of that since professional sports require a lot of sacrifice and hard work and I am skeptical if I want to exercise my willingness to do that at this point. I could also try to enhance and focus on my writing and expand it to areas I have not yet explored."