A cup that changed colors changed Meredith Nichols' life.
"I had no intention of getting into Health Informatics and Information Management," said Nichols, who will in August graduate with a degree from Louisiana Tech in that very thing. "On one of my visits to Tech, there were booths set up with the different majors in the College of Applied and Natural Sciences."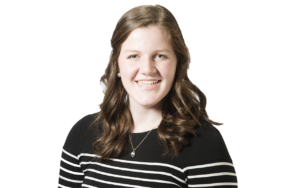 Health Information Management caught her eye because of the cups being handed out that changed colors when they got cold.
When she got back home to Pineville, she saw 'HIM' on the cup and Googled it.
"Originally, I was just interested because of the cups," she said, "but as the fall of my freshman year approached, I realized what a good fit Health Information Management would be for me. I realized the clinical knowledge and the behind-the-scenes work that comes with Health Information Management really interested me. I genuinely enjoy the side of HIM that incorporates the blend of business, leadership, and medicine."
Before the cups, it was her involvement in basketball at Pineville High that brought her first to Ruston and then to Tech.
"Whenever Pineville would face Ruston, I always enjoyed how quaint and charming Ruston's downtown was," Nichols said. "When I came to tour campus, I quickly realized it was the place for me even though I was unsure of what to major in just yet. Louisiana Tech's traditions, relational students and faculty, and academic reputation were some of the reasons I became a student here."
She'd always had an interest in science and the body but was unsure of what direction to go occupationally. She thought about medical school but realized she "did not have the stomach for hands-on care," she said. "Since that was out of the question, I decided to look at my options in the College of Applied and Natural Sciences."
That's when she saw the booth and was handed a cup. From that small beginning, her cup, at least concerning Tech, has "runneth" over.
She's enjoyed opportunities in attending the Louisiana Health Information Management Association's annual meetings, helping host bone marrow drives, and touring Dallas Children's Hospital, all "valuable learning experiences that I'll be able to use in my career," she said.
"The professors in HIM show such genuine care for their students and go over and above to set us up for success," Nichols said. "Our small class sizes allow for discussion-based lectures, building close-knit relationships between classmates and professors. The relationships I've developed is an aspect that has positively flowed into my extracurricular activities."
Those include being a member of Sigma Rho Alpha, HIM's academic organization at Tech; Nichols has served as treasurer for three years. She's been a Blue Fire Mentor, a member on the Baptist Collegiate Ministry (BCM) leadership team, and a member of Temple Tech's leadership team, meaningful involvement that, she said, has brought her "great friends, interpersonal skills, and certainly time management."
"Among my classes in Health Information, I have enjoyed Coding the most; these courses require a high attention to deal with as well as fluent clinical knowledge in order to decipher a diagnostic statement, something that will be very useful in my career," Nichols said. "Health Information Management career opportunities consist of Hospital Administration, Billing, Quality Improvement, and Coding to name a few. I have enjoyed the variety of classes required for this major, including Anatomy and Physiology, Management, and Legal Aspects of Healthcare.
Nichols plans to earn her MBA from Tech, then serve in management positions in a hospital's HIM department.
"It is my dream to be a Hospital Manager for a small community's hospital," she said. "By putting in the work now, I'll be able to achieve this goal in the future. I'm grateful for the opportunities and relationships made while at Tech that have set me up for success."