Junior Avery Friedman, a Family and Child Studies major from Baton Rouge, has a unique approach to helping children cope with illness.  That's because Friedman also is coping with a disease: Arthrogryposis.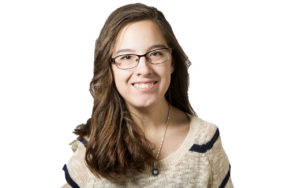 "My concentration, Child Life, is very special to me because I will be able to help children in hospitals cope with their illness," she said. "I chose this concentration because many of my years growing up have been spent in the hospital due to my muscle disease – Arthrogryposis. I know there are many questions and concerns that arise when you are admitted to the hospital, and I feel I can relate to the children I will be working with."
Arthrogryposis is a condition where a child is born with stiffness or constriction in some joints. In many cases, some of their joints don't move much and may be stuck in one position. Often the muscles around these joints are thin, weak, stiff, or missing.
Friedman has chosen to use her experience as a young patient in her future career as a child life specialist. She is looking forward to putting in the devotion and willingness to help the patients on their road to recovery.
"I chose to be a Child Life Specialist because through all the hardships I have endured, I want to help children see that they, too can overcome anything, even if it starts with a hospitalization," Friedman said. "I hope I can fulfill the role of being the support for the patient and their family so they know they are not alone on this journey."
This past summer, Friedman worked in Cape Town, South Africa at Red Cross War Memorial Children's Hospital and this is where she realized just how much her major can make a difference in someone's life. Because of her experience overseas, Friedman hopes to work internationally in the future.
"I know Child Life is a growing field in the United States, but overseas, the population that knows about Child Life is little to none. I hope to be an advocate for not only my position internationally, but to also advocate for children and why it is important to do child life interventions with them and be their support in a time of difficulty," said Friedman.