In the food game, Caleb Wilcox had a familiar weakness as a kid.
"The one thing that always got me," he said, "were the Little Debbie snack cakes."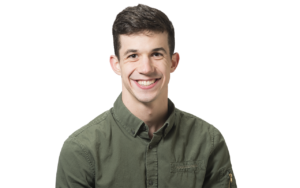 Nothing against Little Debbie, but Wilcox, scheduled to graduate from Louisiana Tech in May with a degree in Nutrition and Dietetics, has moved on.
"I don't even look at that aisle in the grocery store anymore because of all things I have learned," he said. "It's OK to enjoy life and have some junk food now and then, but to me they are not worth it now."
He came to Tech as a prodigy: his parents attended the University in the 1970s and 80s; because Tech waived his out-of-state fees, Tech was an affordable option. A native of Elysian Fields, Texas, Wilcox said the size of Ruston, coupled with his scholarship opportunities, "made Tech an easy choice."
So, with most of his general education requirements (GERs) out of the way because of the dual enrollment courses he'd taken at Elysian Fields High, Wilcox showed up at Tech with a small Little Debbie habit and no big plans.
"I started out in chemical engineering without an idea of what an engineer did," Wilcox said. "After syllabus day of our first engineering class, I went up to the professor and told him, 'I hope I don't offend you, but to me, this doesn't sound enjoyable in the slightest. I would like to change my major to something else.'
"After a year of changing majors and just trying to choose a major that would make money, a friend told me to think about what I really enjoyed," he said. "so I chose nutrition because of my love of making sports a science."
Since discovering what he most wanting to invest in, Wilcox sees the past three years as "some of the most enjoyable of my life, in no small part due to my major," he said.
His in nutrition and dietetics major has given him several opportunities that have allowed for both personal growth and income:
a work-study position at the University;
a position as treasurer for the Student Dietetic Association; and,
a position as assistant manager of the Ruston Farmers Market, where he organizes volunteers, maintains the finances, and helps with the market-day management. (Ruston Farmers Market re-opens April 13.)
Now that he's broken up with Little Debbie, it's vegetables that he often brings home after a day at the Farmers Market.
"I love a wide variety of healthy foods, but one of my favorite meals is honey-glazed salmon on whole grain jasmine rice with oven-roasted rosemary and thyme asparagus," Wilcox said. "Since coming to college, my diet has been cleaned up a little bit; we always ate pretty healthy when I was growing up."
He wants a career in sports nutrition and has already completed a directed study — an independent project with oversight by a professor—on a nutrition education program for college athletes.
"My project was made with the intention of developing an education program for track athletes and having a foundation to build on for  the future," Wilcox said. "Whether (the project is) for a graduate project or just an opportunity for future nutrition students to have a teaching experience that helps the athletes, I am happy whatever its fate is."