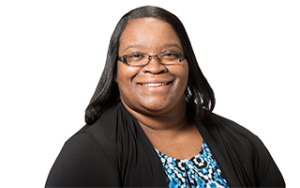 Vanessa Jones Johnson and her husband Taurus, a 1998 graduate of Louisiana Tech University, are strong in more ways than one.
For starters, Vanessa earned her B.S. in medical technology degree in '99, her MBA in '03, and her M.A. in Industrial/Organizational Psychology in '09, "All from Louisiana Tech," she said. "I bleed Tech Blue!"
So there's that.
Plus, the coordinator of Tech's Medical Technology Program is now a pastor's wife, which is no easy job. Taurus was an educator in Bienville, Claiborne, and Webster parishes before he became the fulltime pastor at New Hope #3 Baptist Church in Hanna. The couple live in her hometown of Castor with their two daughters, 10th-grader Zakiya and seventh-grader Anaiah.
But if you really want to see strong, visit the Lambright Sports & Wellness Center. Pictures of Vanessa and Taurus are on the wall of the track above the Billy Jack Talton Weight Room. The two were members of Tech's national champion powerlifting team; Vanessa still holds a Tech record.
"Our daughters are continuing our powerlifting tradition at Castor High, which just started a powerlifting team this school year," Vanessa said.
Strong.
But even stronger is Vanessa's commitment to her mission, both as an educator and as Tech's coordinator of Tech's Medical Technology Program.
"In 2008 I had the opportunity to be an adjunct here for a medical technology course," she said. "My first teaching experience here solidified my desire to move from the clinical setting to academia. Four years later I was offered my dream position here at Louisiana Tech University. I was home again!"
Vanessa's career began in 1999 when she became a medical technologist at Willis Knighton-Pierremont, then Shreveport's newest hospital.
"I never imagined I would land in education, but it came natural to me even in the laboratory," she said. "We are always educating others about laboratory testing, from other laboratory professionals to physicians to nursing staff and patients. I've always believed there are no dumb questions, just a lack of information — and information is power.
"When I began working at Overton Brooks VA Medical Center in 2001, I knew my position came with the responsibility of teaching students in the medical technology program," she said. "At first I had a bit of a mini freak-out wondering what I would do when a student asked me a question and I wouldn't know the answer. After all, I'm the teacher and should have all the answers. I quickly came to the realization that no one person has all the answers. There will be some questions that mean I will have to navigate the world of discovery with the student to seek the answers. But most of all I realized that if I wanted to become a great educator, then I must look for my very own teachable moments and learn from them."
Vanessa, who plans to be the point person to re-establish Chi Beta Lambda—Tech's Medical Technology Club—in the spring, believes that medical technology "attracts students who have a love of science and a desire to help others," she said. "These students want to be in the medical field, but they don't necessarily want the daily patient interactions like physicians or nurses have. Medical technology is a great career choice for students who excel in courses in biology, chemistry, and math. Admission to the clinical programs are extremely competitive, so strong academic performance is a must."
A prime example of a person who wanted to be involved in the medical field but not as a doctor or a nurse is Vanessa, who as a teen loved watching medical shows on television. She just had no idea that medical technology as a career was an option.
"I started out as an accounting major" she said, "but I knew it wasn't what I wanted as my forever career. So I grabbed a catalog and began to read about the different majors offered here at Tech and found medical technology."
The majority of Tech grads in medical technology work with hospitals in clinical labs, Vanessa said.
"There are also job opportunities in chemical industries, laboratory sales, and marketing and research and development," she said. "About 30 percent of our graduates have successfully moved on to graduate or professional degree programs in microbiology, molecular biology, immunology, clinical chemistry, parasitology, toxicology, education, management and business, pharmacy, nursing, pathology, or veterinary medicine."
Some of those other programs do require additional courses beyond the medical technology degree to meet admission requirements.
"Medical technology includes three years of pre-professional course work completed on Tech's main campus," Vanessa said. "Their senior year is completed in one of Tech's four affiliated, hospital-based clinical programs. Medical technologists perform clinical laboratory testing in the areas of hematology, hemostasis, clinical chemistry, microbiology, parasitology, mycology, urinalysis, immunohematology, and immunology.
"The laboratory testing results produced are an indispensable portion of the information used to make critical medical decisions," she said. "Medical technologists are a vital part of the healthcare team and are essential to ensure quality healthcare on all levels."