Jonathan Phillips, MSN, RN, received his undergraduate degree in Nursing from Louisiana Tech University and then earned his Master of Science in Nursing degree, focusing on Nursing Management and Organizational Leadership.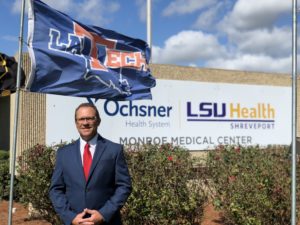 During his 28 years at University Health Conway, Phillips has served in five different leadership positions. Currently, he serves as president of the hospital.
An active member of the American College of Healthcare Executives, Phillips also spent two years as the Regional Director of Emergency Services for four hospitals in the South Texas Health System with Universal Health Services. He is also a current member and past President of the Nursing Advisory Board for Louisiana Tech University as well as serving on several other local, regional, and statewide boards.
Phillips is a veteran of the U.S. Army and spent over 20 years with the Louisiana Army National Guard. He served in various regional and statewide leadership positions as a non-commissioned and commissioned officer and at retirement as a captain served as the officer in charge of medical mobilization activities in north and central Louisiana.