The PushHog, a tree trimming device that fits between large trees and cuts through saplings up to three inches in diameter, won first place overall at the recent 2019 Won in One idea pitch competition hosted by Louisiana Tech's Innovative Enterprise.
The annual cash-prize competition is a chance for community members and students to share their innovative ideas. Each contestant has 60 seconds to present their concept or venture in an elevator-pitch format. After all 10 participants presented, evaluations were made by both the audience and judges.
Kevin Holly, Director of the Laboratory Animal Facility at Tech, was the presenter for the PushHog. He said participating in Won in One gave his team several opportunities in advancing their product.
"I enjoyed having the ability to talk to potential investors after giving our pitches," Holly said. "Having many entrepreneurial minded individuals within the same room created a nice think tank for future endeavors."
He said he and his business partner have already used their $1,000 cash prize to pay off their first PushHog prototype. By participating in Won in One and making new connections at the event, Holly said they are looking forward to their business future.
"We have gained confidence that there is a market for our product," he said. "Knowing that people are interested in our product is a great motivator to devote more time and energy to making it a reality."
Other winners included Rebecca Doucet who won first place for best student pitch at Won in One. Henry Cotton, Jack Smithey and Charles Franck were also among those awarded for their innovative ideas.
Rebecca Brady, a senior agricultural business major, was also a competitor in Won in One. She said by participating in this event, she gained a lot of new insight for improving her presentation skills.
"This gave me an idea of what to present and how to do it," Brady said. "You have to present really fast in sixty seconds, so you had to get the most important information about your idea out there as quickly as possible."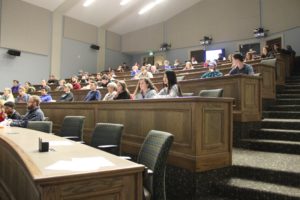 Brady's idea pitch was Happy Paws, a local dog park for the Ruston and Tech community. She said her favorite part about Won in One was listening to the other competitors' pitches alongside her own.
"Each individual had their own unique product to present," she said. "None of us had overlapping topics or anything in the same field. It was interesting to be able to hear all these completely different ideas."
Kennedy Conlee, a junior chemical engineering major, was an audience attendee at the event. She said Won in One is beneficial to the community as it provides an opportunity for individuals to share their product ideas.
"All of the pitches were about something that could positively affect our community, both locally and globally," Conlee said. "It's really cool to see these every day people like you in me with these amazing ideas get the chance to bring what they have to the table."