Crocs.
Talk pumps or sandals or peep toes, but don't talk to Taylor Heiden about Crocs, the casual shoe/sandal folks love or hate.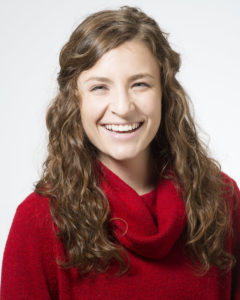 "I cringe," said Heiden, a senior Fashion Merchandising and Retail Studies major, "every time I see someone wearing them."
Such is life in the fashion game, where one woman's Croc is another woman's romper is another woman's stiletto.
But maybe the gray area, the ever-shifting battle of what's "in" and what's "out," the reality of choice and mood concerning fashion — the challenge of being a sounding board and honest appraiser — is what pushed Heiden toward her major.
What she's certain of is she loves the challenge of the ever-evolving profession.
"Originally, I'd planned on majoring in Marketing," said Heiden, whose mom, Dr. Kathleen Heiden, is an associate professor in Tech's Fashion Merchandising and Retail Studies program. "Winter Quarter of my freshman year, I decided to take a merchandising class as an elective and immediately fell in love!"
By spring quarter, she'd officially switched to Fashion Merchandising and Retail Studies "and I've never regretted it," she said.
Though she questioned her major back then as a second-quarter freshman, there was never a doubt about which school she'd attend.
"I was born and raised a Bulldog," said Heiden, a Ruston High graduate. "Both of my parents, aunts and uncles, and sister all graduated from Tech, and I knew I didn't want to go too far from home for school, so it just made sense to go to Tech."
She'd like to stay in Ruston or nearby after graduation; it's part of a dream.
"I love small, local boutiques," she said. "My mom and I have always talked about opening our own one day. It would be a dream come true if we could finally make that a reality in the next 10 years."
Heiden's personal style is "classy and chic, yet comfortable," she said. Her "go-to" outfit is a nice pair of jeans with a cute top, heels, and simple jewelry.
"I honestly don't think my style has evolved too much," she said. "I've always tried to keep my wardrobe full of classic pieces that I can wear for a least a couple of years with only a few trendy pieces added each season for fun."
Dressed for success and with a Tech diploma, Heiden feels she's prepared for professional life after college. And if, like her, a high school senior is making a decision concerning a major, she can speak with confidence about hers.
"Be willing to work hard in this program because it pays off in the end," she said. "You'll be able to understand projects and concepts that can give you an incredible skill set for the workforce."