Louisiana Tech senior Connor Gruntz had nearly hit for the cycle before he decided to study Environmental Science.
"This is my fourth major," said Gruntz, scheduled to graduate in May. "I went to the Career Center and they helped me find my interests and steered me toward the Environmental Science Program."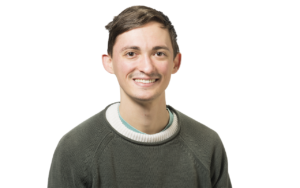 Students needing the kind of information that helped Gruntz discover options can either visit the Career Center (337 Keeny Hall) each weekday, email careercenter@latech.edu, or call 318.257.4336.
Tech's Career Center offers support to students and graduates, primarily in the cultivation and enhancement of skills to explore major and career options, master internship/job search techniques and strategies, and connect with industry partners through experimental and professional opportunities. Its purpose is to help students obtain their career goals, something Connor is getting closer to.
"I've enjoyed this program for the past three years because of its hands-on classes and because of the professors," he said. "They've given me the tools and motivation to do the best I can in my classes and my research."
Some of the biology classes are "very demanding," he said, but he's still made time for extracurricular activities: Gruntz has been part of both the Association of Catholic Tech Students and the Tech Powerlifting Team.
A graduate of Jesuit High in New Orleans, he chose Tech because "I wanted to stay in state," he said, "but I also wanted to explore another area of Louisiana."
His next stop is not as certain. Maybe he'll even be exploring another part of the country.
"I'm just going wherever the wind takes me," Connor said. "Environmental quality control and regulation jobs are common."