Haley Barnett knew when she got into the biological sciences game that the toughest part would be learning to deal with failure and rejection.
"Science is trial and error in that sometimes experiments don't work, or they don't work out how you'd planned," said the third-year PhD candidate in Molecular Science and Nanotechnology (MSNT). "You have to be determined to see things through, even when it seems like nothing is working how you wanted. When it doesn't work the first — or fifth — time, you pivot and try something new.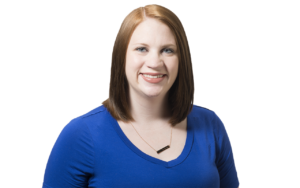 "That was something hard to come to terms with at first," she said, "but it's a part of the learning process and really helps to build problem-solving skills."
She's needed them.  When she decided to go to graduate school, she had the full support of her husband, Heath, and her family.
"My extracurricular activities are centered around spending time with my family," Barnett said. "Sometimes it's not easy balancing everything; school can become overwhelming. However, it's all about prioritizing. You learn to balance lab work, class work, and time outside of the program.
"Between the long hours in the lab, the frustrations and exhaustion that come with graduate school, the successes of publishing my first paper — and passing my qualifying exams — Heath has been my biggest supporter and has never questioned my decision to go back to school," she said. "Having him support my career aspirations means the world to me. My parents have also been great in supporting me throughout this process. It really makes it easier to stay motivated when you have an entire team of people encouraging you along the way, and I appreciate them for that."
Her advisors are Dr. Mary Caldorera-Moore and Dr. Jamie Newman. They are family now too.
"Working for them is such an honor," Barnett said. "Their guidance and support is why I've had successes in graduate school. I hope they understand how much they've influenced me, not only as a scientist but also as a person. I will forever be thankful to be part of the Caldorera-Moore and Newman Labs at Tech."
A native of Columbia in northeast Louisiana, she wanted to stay in the area for graduate school after earning her BS in Biology from ULM in December 2015. A lifelong lover of science, she was inspired by some undergrad professors who "made me realize that not only did I want to continue learning," she said, "but that I wanted to eventually become a college professor so I could be that inspiration like they were for me.
"Tech really checked all of the boxes for me," Barnett said. "The University was local, offered multiple doctoral programs, and gave the sense of being part of a community. Choosing Tech was an easy decision; the University and all it offers fit my lifestyle."
The MSNT program at Tech is a multi-disciplinary program, a major attraction for Barnett.
"It really gives me the option to study what interests me," she said. "I have the opportunity to explore multiple scientific fields that capture my attention while pursuing this degree."
Options for a student with a doctoral-level degree can be classified into two main categories: academia or industry. Barnett favors the former and knows that, whichever route she travels, an employer will see her diploma and understand she is driven, dedicated, confident, and a good communicator with solid problem-solving skills.
"I believe it's the skill set along with the extended education that gives more options to those with PhDs," said Barnett, whose goal in the next few years is working as a full-tenured professor at a university, "running a successful research lab where I mentor graduate and undergraduate students as well as lecture in biology," she said, something she's seen modeled well on Ruston's campus.
"Louisiana Tech has some really great professors who truly care about their students," she said. "They want to see students succeed not only in the class, but also in future endeavors. I can especially say this of my advisors who go above and beyond for their students; they provide us every opportunity to help us reach our goals. It's really motivating when there are so many professors who take the time to get to know you and help you reach your full potential.
"The best advice I can give to someone who is thinking of pursuing a PhD is to find an advisor who you can really work well with and whose research you find interesting," Barnett said. "You're going to spend years working for this person, and it really makes a difference if you feel comfortable working for them. When it comes to being successful in graduate school, you need to enjoy what you do, so focus on finding the right advisor to build a relationship with."