Today he's a senior scheduled to graduate from Louisiana Tech in May with an undergrad degree in biology.
Five years from now, he hopes to be moving into a medical residency.
"It's a long road ahead," Conner Hartupee said, "but I'm looking forward to it."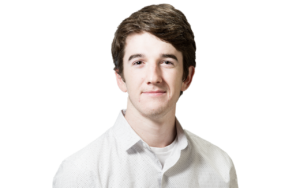 Hartupee came to Tech from Jesuit High in New Orleans with plans to be an electrical engineer.
"After a year and a half I realized I had a much greater passion for biological research and medicine," he said. "Biological Sciences has provided the education needed for me to continue forward in a career in medicine.
"I chose to come to Tech because I knew their science and engineering programs were what the school specialized in and was known for," he said. "That, along with smaller class sizes and affordable tuition, were the significant deciding factors in my choice."
He's had to work to allot time for classes, research requirements, and other extracurricular activities.
"Even with a full course load," Hartupee said, "I've found time to pursue activities that I enjoy surrounding my field. I've even found the time to create my own organization for Pre-Medical students that allows us upperclassmen to continually inform and communicate with other interested Pre-Medical students."
His Biological Science professors have been "fundamental" and a "great help" in his growth, both as an academic undergraduate and as an individual at Louisiana Tech.
"A big thanks to Dr. Jamie Newman and PhD candidate Joseph Straub for being excellent mentors and role models who have helped me along," Hartupee said. "Also to the entire Newman Lab for being some of the friendliest peers I've known at Tech, and everyone who has helped and continues to help the Louisiana Tech PreMeds organization continue running."