One of the main reasons Jekoven Tinsley came to Louisiana Tech was because Ruston is much closer to the equator than his high school of Washtenaw International — in icy Ypsilanti, Michigan.
"It gets really cold during the winter time, and I wanted to go to a place that was warm during winters," Tinsley said. "This was definitely one of my requirements."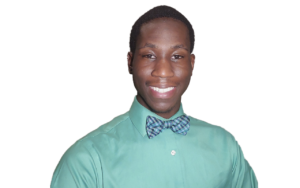 But every college across the South meets that requirement, so there had to be more.
And there was.
"I wanted to become a nanosystems engineer; it's a degree Tech offers and it's a wonderful program," he said. "I just came to find out that engineering wasn't for me, and that's OK."
The third and final reason he chose Tech was because he studied the University online and decided he wanted to grow with the school.
"Tech had a plan to become the best university that it can be, always trying to improve," Tinsley said. "Stagnation is boring and can lead to complacency. I remember roaming the website and coming across the Tech 2020 plan, and I thought, 'Wow; this is ambitious.' After being here for three years, I can say they are following the plan. New buildings, more professors, better cafeteria, better dorms; it's amazing to see and be a part of, and I'm excited to see where Tech and Ruston will be in another five years."
Where Tinsley will be in five years is another stirring proposition. Scheduled to graduate next winter with a BS in Medical Technology and currently in his clinical rotation at Lake Charles Memorial Hospital, he has a solid start in a career that offers widespread opportunity.  
With a BS in Medical Technology and a passing grade on the American Society for Clinical Pathology (ASCP) Board of Certification (BOA) exam, you're a licensed medical technologist who could be a section supervisor over Hematology, Urinalysis, Coagulation, Chemistry, Microbiology, or Immunohematology.
Or you could be a lab director.
Or a medical technology professor.
Or a professional who works in a hospital or doctor's office, or for the government, or for a private company selling instruments needed to run various specimens.
"There are jobs pretty much anywhere; the number of tests run on patients increase each year," Tinsley said. "Your options are nearly endless."
The role of a Medical Technologist, sometimes called a MedTech or Clinical Laboratory Technologists, is to perform and analyze the results of complex scientific tests on blood and any other bodily fluids and tissues. They are highly trained professionals who can work in hospitals, independent laboratories, and research labs, using sophisticated procedures and equipment.
"In simple terms," Tinsley said, "if you go to a doctor and suspect that you are sick and get your blood drawn, a throat swab, or even urine collect, these specimens will be analyzed by a medical technologist."
Their reading determines, for example, whether you are pregnant, have taken narcotics, or have had a stroke recently. Handy information.
"Medical Technologists are an integral part of any allied health system," Tinsley said, "and we can tell a lot about anyone when we collect a specimen from you."
It's Big Brother, but in a good way. And Tinsley is happy he found it. Or it found him.
"I stumbled into the field by accident," he said. "In high school, I always imagined doing something related to science, math, and technology. So I believed becoming an engineer was a great solution that encompassed all three. After two years of taking classes toward becoming an engineer, I realized that I really missed biology and discovered that my love for math had turned into a strong dislike. I needed a change."
He didn't want to waste his first two years, so he looked for an opportunity that was "still science-related but less math-related," he said.
"My first class in medical technology was called instrumentation; I was overjoyed after really learning what it takes to become a medical technologist and the sheer fun it seemed to be," Tinsley said. "In that class, we just went through the basics. We tested for calcium, glucose, and various other things in samples; I found pleasure in actually doing the testing.
"The amazing thing is that each and every sample is different and special; the procedure required for each test is slightly different as well," he said. "You might need to use a machine, or do manual pipetting (a pipette is a laboratory tool commonly used in medicine to transport a measured volume of liquid), or look under a microscope. To me each sample is a mystery worth solving; but most importantly what you are doing is saving someone's life. It was not my goal as a high-schooler to become a medical technologist, but I am going to chalk that up to not having the knowledge about how perfect this career is for me."
The toughest part of the program for Tinsley is the clinical rotation he's involved in now at Lake Charles Memorial Hospital, "sort of like a residency that doctors do, but for only one year," he said. "I work with professional MedTechs and real patients."
His day at the hospital begins at 7 a.m., using real patient samples to run tests under the supervision of a licensed Medical Technologist and turning out real results for doctors to interpret.
"Each day is different," Tinsley said, "and it never gets old."
By noon it's time for the lecture part of the day; Tinsley and his fellow students go over material, maybe take a test — three to five a week — and leave at 3:30 p.m.
"It's a real work schedule, Monday through Friday, and we don't get a break like you do in normal college classes," he said. "You go home most nights and study. This all leads up to the ASCP Board of Certification exam we have to pass to practice medical technology.
"But I know in the end it will be worth it," he said. "I'll be helping people while also getting my hands dirty —  well hypothetically; I will definitely be wearing gloves."
He'd like to one day become an integral part of a lab, then run a "clean, efficient, and errorless, stress-free, friendly lab" as a lab supervisor.
"I would gladly like to help out young college students pursing their medical technology degrees to keep the cycle going," Tinsley said. "From there I would love to go back to school and get a PhD in molecular biology. That would allow me to eventually purse my dream of working for the government, either for the Food and Drug Administration (FDA) or for the Centers for Disease Control and Prevention (CDC).
"At the FDA, I would like to make sure that pharmaceutical drugs are safe for people to consume and help the people they are prescribed for without having unseen and negative side effects," he said. "At the CDC, I would love to work with different diseases, understanding how they affect the human body, and work closely with doctors to find an eventual cure to some of the most pressing diseases we have today. Honestly, I want to leave my mark on this world; I don't necessarily want to be rich or even famous, but I want to know I've helped people through science, and I'm determined to do so."
He's confident because of the training he's had as an undergrad.
"At Tech, all the lectures that are medical technology-specific have labs associated with them," he said. "In these labs you learn so much. Many of the tests done at the (Lake Charles) hospital and many of the procedures, I was either already aware of or had a good idea of what I was doing because I had done it in those labs (at Tech). We are so prepared for the clinical rotation. A lot of it is not new information but rather additions to information and core concepts that you've already learned. I'm confident that without learning these fundamentals I would be lost and struggling." 
Tinsley said he's met some "amazing professors" at Tech and thanks two especially, Dr. Adarsh Radadia and Professor Vanessa Johnson.
"Dr. Radadia let me help out his team and continue learning about nanotechnology even after I'd changed majors," Tinsley said. "With him I learned how to use a Scanning Electron Microscope (SEM) and Atomic Force Microscope (AFM); I even got a chance to build an AFM from scratch. He is an amazing and intelligent individual who I cannot thank enough. During an Engineering and Science Day, I worked with him to help show middle and high school students the AFM and explain about nanotechnology. We scanned chocolate using the AFM looking at the crystalline structure at the atomic level. This was some of the best fun I have ever had and was an honor. 
"Professor Vanessa Johnson is the reason I have been so successful in Medical Technology and got accepted into clinicals," he said. "Not only is she an awesome MedTech in her own right, but she is my advisor and the main professor for medical technology-specific classes. Changing majors after being an engineer for two years is rough and scary. Especially when you're not certain what major you actually want to go into next. She made the whole experience stress free. Professor Johnson is a wiz at scheduling and advising students and very knowledgeable in lectures and labs. I've always felt as if I were truly learning, and I had a concrete understanding of the material. I would not be where I am today without her."
Earning a Medical Technology degree is a chore that will pay dividends, but academics is only one part of college life. Jekoven liked "what has got to be one of the most amazing college gyms and rec centers," the Lambright Sports and Wellness Center, but preferred intramural sports opportunities. He's not a gym and lifting-weights guy.
"Each quarter I would play on about three teams; it often shifted from men's soccer, coed soccer, ultimate Frisbee, coed ultimate Frisbee, dodgeball, and some others," he said. "Now I know I wasn't the best at all of these sports, and playing on the RESlife team didn't always mean a win, but it was fun. Not only was I getting great exercise and having fun, but I also got a chance to meet some cool people and make some new friends."