Taylor Clement was born with a natural focus toward studies and a love of biology, specifically the outdoors and wildlife, so Louisiana Tech and its Environmental Science program was just what she was looking for.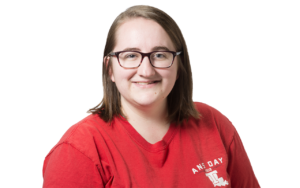 "I chose Tech because of its focus on academics and hard work," said the senior from Dutchtown High in Geismar in Ascension Parish; she'll earn her undergrad in May.
"I never wanted to go to a 'party school' but wanted to go somewhere that promoted learning above all else," she said. "Tech fit that perfectly."
Environmental Science majors have a vast amount of job options in an office, in a lab, or in the field.
"It's a broad subject," Clement said, "and the curriculum allows you to experience all sides of the degree."
Her goal is to go to graduate school, earn her master's degree, and become a Wildlife Biologist with a focus on coastal systems.
"Lots of conservation and restoration of our wetlands," she said.
Time management in college is a must, she said, not only for Environmental Science majors but for most other majors that stress STEM.
"You'll have both lecture and lab classes, so your schedule is going to be hectic at times," Clement said. "You're going to learn that balancing your schedule in college is really important."
But she'd also tell future Environmental Science students that they won't be alone at Tech.
"I have met an astounding amount of professors who are invested in my success and career," she said. "If your high school teachers ever told you that your college professors wouldn't care about you, they were wrong. Don't be afraid to talk to your professors about your goals in life; odds are they'll give you the best advice you've ever gotten."