Tech faculty and students collaborated with members of the local Ruston community to give the round table talk "University-Community Partnership to Enhance Public Health Communication" at the 2019 Annual Conference of the International Society for Disease Surveillance (ISDS). 
The conference focused on sharing research results and best practices for improving public health data collection and sharing of information about diseases, and the Tech panel was one of the few presentations to focus on university-community collaborations. Panel members discussed the innovative educational practices Tech has pioneered to foster such relationships.
Known as the "Five Ps of University-Community Partnerships," the model advocates service learning and outreach as methods for providing students with real-world experiences that help them make meaningful contributions to the community. 
The model involves identifying community areas of need and paring them with faculty expertise to create unique classes and focused student projects. The objective it to use this approach to tap faculty talent and benefit from interdisciplinary approaches to education. The process, moreover, is iterative and extends across an overall curriculum with students in different classes addressing a particular part of an overall community need. In this way, students learn how to draw from multiple classes to address problems and meet challenges – a skill essential to success in today's workplace.
The panel focused on a particular university-community project involving the Lincoln Health Foundation and faculty and students from Studio Art, Biology, and Technical Communication. Panel members included Tech student Anna Morris (Biology major) and community partners Norman Hanes (CEO of the Lincoln Health Foundation) and Dr. Jackie White (Medical Director of the Health Hut). Tech faculty on the panel were Dr. Jamie Newman (Biology), Professor Nicholas Bustamante (Studio Art), and Dr. Kirk St.Amant (Technical Communication).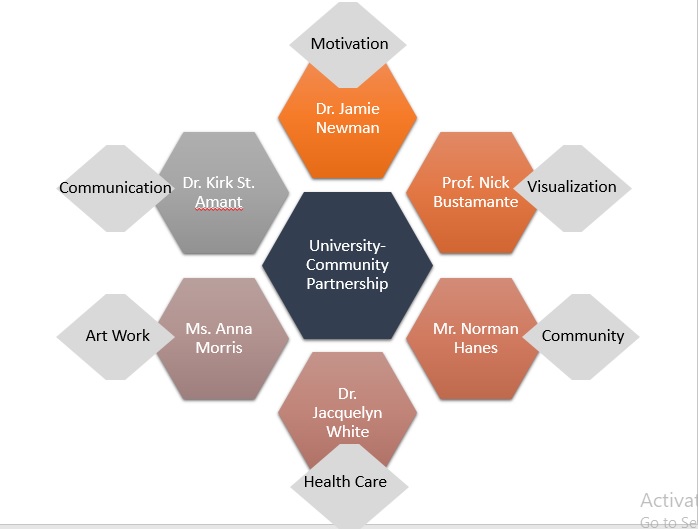 Each individual summarized her or his role in the overall collaboration and discussed how that role connected to student education and to meeting community needs. A companion paper, "University-Community Partnership to Enhance Public Health Communication: The Context of Communicating Care" appears in the conference program, and session attendees eagerly engaged in discussion of how the Tech model of education based university-community collaboration could be expanded into other areas. 
There are numerous benefits to university and community collaboration, Hanes explained.  
"Lincoln Health Foundation's collaboration with Louisiana Tech has opened up numerous doors of opportunity for direct involvement and connection with the clients of grantees that we fund," he said. "This is a unique approach, and by involving Tech faculty and students in the initiatives funded by the Foundation, we are able to work as a team to understand and address identified health challenges in Lincoln Parish." 
The value of such innovative approaches also provides Tech students with unique and important educational experiences they can't find anywhere else.
"Working with the Lincoln Health Foundation has been an exciting and rewarding opportunity," Morris said. "It has given me a platform to use my talents to not only gain experience, but to help my community as well." 
To date the partnership has involved seven students who collectively have generated 15 images for the Lincoln Health Foundation and their grantees that help communicate health information to the community. The Tech-community team looks forward to sharing these approaches and experiences with others and to expanding the scope of projects to include students and faculty from other departments as well as a wider range of community partners.