When natural disasters strike, first responders need to be prepared to respond to rescue situations – even when those in need of rescue have four legs.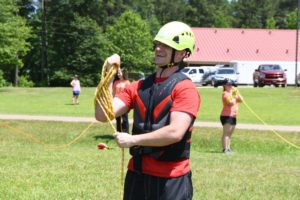 Louisiana Tech University's School of Agricultural Sciences and Forestry Animal Disaster Program hosted the 2019 Louisiana Animal Responder Boot Camp recently at the Outdoor Wilderness Learning Center in Dubach and on the Tech campus.
"The five-day training program prepared animal responders to work within the infrastructure of community disaster response, focuses on safety for people and animals, teaches skills such as large animal technical emergency rescue, disaster sheltering, slack water rescue techniques, and specific animal handling skills, which increases the overall local community response capabilities in Louisiana and the surrounding communities," said Dr. Rebecca McConnico, professor and veterinarian at Tech. "Our presenters included experts from American Humane, Animal Search and Rescue (ASAR), Baton Rouge Community College, CRM Farriery LLC, LSU School of Veterinary Medicine, and Louisiana Tech University's School of Agricultural Sciences and Forestry Animal Disaster Program."
This is the 12th year for training for veterinarians, veterinary technicians, animal control officers, firefighters, veterinary and veterinary technology students, animal science/pre-veterinary students, and other animal care personnel. 
This year's training came only one month after an EF-3 tornado plowed through Ruston and the Louisiana Tech campus, damaging or destroying more than 1,200 homes and businesses in Ruston, including Tech housing and athletic facilities. The storm also killed two in Ruston.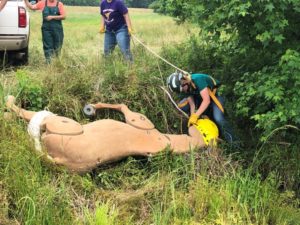 Lincoln Parish Director of Homeland Security and Emergency Preparedness joined the boot camp attendees to emphasize the importance of programs that bring community members together with the common goal of protecting both human and animal lives.
"With the on-going massive back water flooding from the longest standing Mississippi River flooding in history along with numerous tornado outbreaks and other disasters, it is critical that communities continue to increase response capacity to care for both people and animals," McConnico said. "The animal responder boot camp exemplifies an effective sustainable training program that builds and strengthens community resilience."
Support and funding for the boot camp was provided by the AAEP Foundation, Boehringer Ingelheim Vetmedica and Zoetis, American Humane, and Animal Search and Rescue.