Students in the Agricultural Sciences and Forestry Department recorded damage to Louisiana Tech University's landscape following the EF-3 tornado that struck Ruston on April 25. Their project used classroom knowledge in a practical setting and will help Tech know better how to approach campus landscape recovery.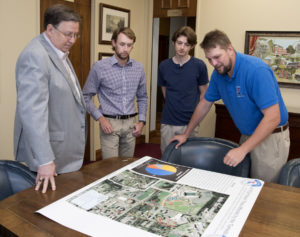 Bradley Brown applied concepts learned in his Tree ID class, taught by Dr. Joshua Adams to develop a tree inventory map of damage after the storm.
"Bradley was in the middle of developing a complete campus tree map and database when the tornado struck. I was trying to figure out what to do with his now destroyed project when [Associate Vice President for Administration and Facilities] Sam Wallace called me hoping I had some information on the tree losses for the university," said Adams, who is an associate professor of Forestry. "So, we changed the direction of the project and developed the updated map focusing on the damage."
Using the original tree inventory and map collected in the Winter 2019 Tree ID class, within two weeks Brown and classmate Conner Killian completed a new map and tree inventory for the campus. Their assessment revealed that out of 202 trees throughout the campus:
75 were in good or fair condition.
22 were in poor condition.
95 were dying or dead.
Adams said each tree should be assessed individually so that the University can determine where replanting or greater care is necessary.
"Having a Geographic Information System (GIS) helps increase efficiency when allocating resources to various projects and a means of analyzing data when disasters happen," said Dr. Michael Crosby, assistant professor in the Agricultural Sciences and Forestry Department. Crosby said having data readily available prior to a disaster helps administrators estimate damage cost and value lost.
Tech's GIS program encourages their students to integrate their classroom learnings to access real life situations like storm aftermath. Not only did Brown and Killian produce an updated tree inventory, their findings benefited Tech's recovery efforts.
"They've done an excellent job and this map will help play a role in assessing damage for FEMA and work with arborists and landscapers to help repair our campus," said Tech president Dr. Les Guice.