This summer, Louisiana Tech's Biological Sciences department is partnering with Louisiana Universities Marine Consortium (LUMCON) to offer a new internship opportunity for Tech undergraduates to get involved in scientific research.
LUMCON will welcome seven students from Tech to its DeFelice Marine Center in Cocodrie in August to spend three weeks conducting research while in residence at the coast. The inaugural class of the Coastal Research Internship Program will then analyze and present their results during the fall semester at Tech. Each student in the program will earn credit for an independent research course through the University.
Besides providing Tech's College of Applied and Natural Sciences undergrads with coastal research opportunities, the partnership will increase research partnerships between the institutions and help students overcome some of the barriers they experience when pursuing coastal internships and research opportunities. The program also leads to the possibility of joint research initiatives being developed between LUMCON and the Tech faculty.
"Many of our students are interested in marine science and coastal restoration, but due to our distance from the coast and restrictions on student finances, pursuing opportunities in these fields can be difficult," said Dr. Jennifer Hill, assistant professor and director of the Internship Program at Tech. "The collaboration between Louisiana Tech and LUMCON will provide our students with the outstanding experience of working in coastal and estuarine field science. Our students are very excited to throw their boots on and get into the field."
Hill will team with nine of her Tech colleagues and four LUMCON Faculty Partners to instruct the students. Here is the inaugural class:
Chardonnay Boyd, senior biology major from Alexandria;
Adam Broussard, senior biology major from St. Francisville;
Grace Cohenour, junior biology major from Calhoun;
Maggie Herrmann, senior environmental science major from Farmerville;
Brittany Hutton, senior biology major from Downsville;
Richard David Johnson, senior environmental science major from Saline;
Katheryn Steffins, sophomore biology major from Calhoun.
"The reason I wanted to do this internship is because it's an amazing opportunity to get field experience and to find out if this is the career path for me," Hutton said. "I'm excited to see what my research project will be and how it will turn out."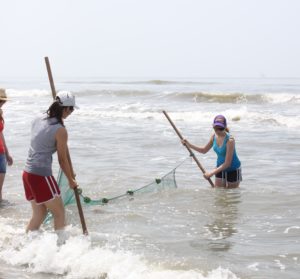 "When I heard about this internship, I was super excited to apply," Steffins said. "This is what I'd been looking forward to since I started at Tech — an opportunity to work hands-on in a marine lab. I am greatly looking forward to the research we will conduct and the experience to be gained."
"This unique opportunity allows us to bridge the distance in our state's marine consortium," said LUMCON Executive Director Dr. Craig McClain. "LUMCON is excited about connecting with students from Northern Louisiana and training the next generation of our state's coastal leaders."
At no time has the research been more important. According to LUMCON, in the next few years Louisiana will invest more than $50 billion in coastal restoration and protection to slow the loss of wetlands and restore coastal communities and fisheries. Research of scientists who understand the biology and ecology of the microbes, plants, and animals that live in these systems will be used to guide the restoration process and secure economies dependent upon these wetland habitats.
"The Board loves to see opportunities on the coast for all of our students across the state," said Board of Regents Chairman Marty J. Chabert. "Collaboration like this provides experiences for students that expand their learning in ways they never imagined. It's hands-on learning, and it is transformational for all involved. We need more of this kind of innovation, and I applaud LUMCON for their efforts."
For more details and information on LUMCON's Education and Outreach program, visit https://lumcon.edu/education-and-outreach.