NASA astronaut Serena Auñón-Chancellor visits campus Sept. 24 to kick off Louisiana Tech University's 2019-20 New Frontiers in Biomedical Research Series at 6 p.m. in Howard Auditorium. To highlight her visit, we've talked to alumni and students who have worked in the space program. This is one story from that series.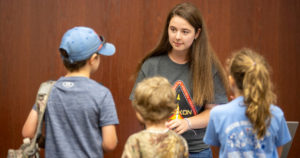 Four Louisiana Tech students from the College of Engineering and Science got a taste of space this summer after being selected to participate in RockOn 2019, a NASA-supported workshop that gave the Tech team an opportunity to learn more about rocketry and to put into practice their engineering problem-solving skills.
"The trip was very helpful, as I got to see some practical applications of the things I was learning in my engineering classes," said Abby Phillips, a sophomore chemical engineering major who hopes to work professionally as a process engineer in a chemical plant.
"This trip further sparked an interest for me in learning how things work," said Tess Hamilton, a sophomore biomedical engineering major from Whitehouse, Texas. "I soldered different motherboards each day, learned about sensors such as Geiger counters and z accelerometers, and was able to witness the launching of a rocket."
Students Allison Kumler and Ella Norris, along with Dr. Krystal Corbett, lecturer for Tech's Department of Mechanical Engineering, rounded out the female quintet who attended the workshop. Dr. Mary Caldorera-Moore, associate professor in Tech's Biomedical Engineering Department, is the University's LaSPACE faculty representative. 
"I think this is a great opportunity for our students to apply the engineering problem-solving and programing skills they've developed through the freshman Living with the Lab series in a real-world setting," Caldorera-Moore said.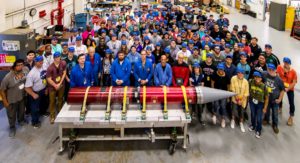 "Bringing an all-female team to the RockOn summer program was an exciting opportunity to showcase what empowered females can accomplish," Corbett said, "while also providing a platform for Louisiana Tech University female engineering students to become role models to others in STEM fields."
RockOn was June 14-22 at the NASA Wallops Flight Facility in Virginia.
"It was a military base," Phillips said. "The buildings we were working in were just like classrooms, and we also went to some buildings that were just engineering workshops. Basically, just metal buildings with lots of big equipment in it."
"The facility was very plain on the outside as it used to be a military base, but it was decked out in full force on the inside," said Hamilton, who wants to use her degree to work with medical devices for missions and non-profits to help those in need. "NASA definitely knows their totally-awesome nerdy gadgets."
RockOn was established by the Colorado and Virginia Space Grant Consortium to provide participating students with the opportunity to work on an engineering project and give them more real-world experience. The point in the case of the Tech students is to produce better engineers and a stronger technical workforce in Louisiana.
"One thing we did was use the coding language we learned in our Engineering 120 class, Arduino, to control a rocket payload," Phillips said. "A rocket payload is basically a plastic plate with a bunch of sensors attached. These sensors measured stuff like temperature, acceleration, humidity, and radiation.
"Then," she said, "the payload was launched on a rocket, which went into orbit and came back down. After the rocket came back, we got our payload back and saw the data that the sensors collected while it was in space."