Sean Berman, who earned his MS in Biological Sciences in 2015 from Louisiana Tech, has recently received a grant from the United States Air Force based on his MS research that focuses on traumatic brain injuries and the potential of stem cell therapy in remediating the associated loss in memory and motor coordination.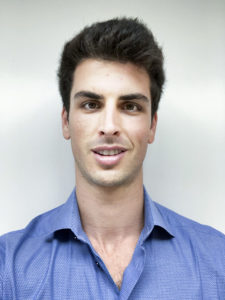 Berman is hopeful the research will actually aid in repairing the sort of damage to the brain that combat veterans might have experienced as the results of blasts and that football players might have experienced as the result of blows to the head.
His argument is a logical one.
"When veterans are coming home from war, they're being diagnosed with PTSD and treated as though they have a purely psychological problem," said Berman. "Zero attention is being paid to the fact they've had exposure to blasts, both in training and in combat, resulting in many traumatic brain injuries. The structural integrity of their brain is totally disrupted. To not attempt to repair the structural tissue damage and treat it only as a psychological case is like putting a fresh paint job on a high rise that's on the verge of collapse."
Based on work he's been involved with at Tech, along with some clinical work he's done since, "we can see that stem cells can help repair this damaged tissue," he said. "The goal of this SBIR (Small Business Innovation Research) grant project is to take military personnel diagnosed with severe PTSD, provide stem cell therapy via an IV infusion, and then follow up with typical PSTD verbal tests that are issued at the VA, but also use an advanced assay (test) to measure discrete amounts of neuro-inflammatory markers that can be found in the peripheral blood.
"We are partnering with the company, Quanterix, that has equipment that can measure these proteins at a very precise level, so much so that we can correlate it to the severity of the brain injury and hopefully show improvement in that injury over time," Berman said. "If successful, we can extend the impact of this research to the public and other groups prone to concussive injury, such as NSF football players.
Earning the grant — an Air Force "AFWERX" SIBR grant — is no small accomplishment. The SIBR program is a highly competitive program that encourages domestic small businesses to engage in both Federal Research and Research and Development that has commercialization potential. "AFWERX" allows the Air Force to engage across industry, academia, and non-traditional contributors to create transformative opportunities and foster an Air Force culture of innovation. The ultimate aim is to solve problems and enhance the effectiveness of the Air Force.
Berman went to Amherst College undergrad and played football there, so he has some experience with head trauma. When he came to Tech with a year of eligibility left, he was given the opportunity to walk on at Tech as a graduate student.
"A couple days after I showed up at Tech for Fall Camp, the NFL settled its concussion lawsuit with the NFLPA (National Football League Players Association) for $765 million, a number that's since been upwardly revised to nearly $1 billion," he said. "Definitely a hot topic that was all over the news. Everyone's initial reaction was, 'We need to change the game. Make it safer. End football. Take away tackling.'"
Berman was "perplexed," he said, that no one was saying, "We need to find a treatment for concussions."
"If you roll your ankle in soccer, there are a handful of different treatment options and protocols," Berman said. "If you concuss your brain in football, you simply rest until you get better. It didn't make sense to me that the players, trainers, and a medical team would actively work to treat an ankle sprain, but when it came to your brain, the answer was 'sleep and rest.' So I thought it'd be a good idea to study concussions while at Tech and hopefully find a solution and viable treatment option. I think we did that."
Berman's research at Tech was conducted under the guidance of Dr. David K. Mills, professor of Biological Sciences and Biomedical Engineering at Tech. Today, he is back in his hometown of Santa Monica, California working with a team of more than 500 doctors across the United States and internationally who are doing stem cell research.
"The majority of the work is being done clinically, looking at restoring all kinds of damaged tissue naturally with stem cells," Berman said. "We collect and analyze data on thousands of patients, trying to optimize the therapies to figure out which patients are the best candidates, which routes of stem cell administration are most effective, and what complimentary therapies are required, if any.
"It's been a lot of fun," he said, "and we're seeing some life-changing results."