Herpetologist, epidemiologist, and wildlife veterinarian Dr. Mark Mitchell will speak on "Travels and Tribulations of a Wildlife Epidemiologist" at the Louisiana Tech School of Agricultural Sciences and Forestry Fall quarter South Campus Seminar Series, from 6-9 p.m. Monday, Oct. 14 at Hoogland Auditorium in Lomax Hall.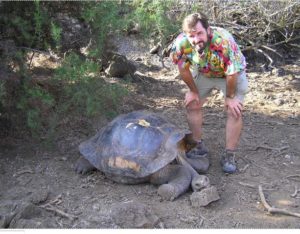 "Dr. Mitchell is a dynamic speaker who has a passion for students and is an excellent role model for demonstrating how much can be accomplished when teams work toward common goals," said Dr. Rebecca McConnico, Tech professor and veterinarian in the School of Agricultural Sciences and Forestry.
Dr. Mitchell received his BS, MS, and Doctor of Veterinary Medicine degrees from the University of Illinois and his PhD from Louisiana State University. His professional interests include invertebrate, fish, amphibian, reptile, avian, and non-domestic mammal medicine and surgery. He is a past president of the Association of Reptilian and Amphibian Veterinarians, co-editor of the Journal of Exotic Pet Medicine, editor-in-chief of the Journal of Herpetological Medicine and Surgery, and co-editor of the Manual of Exotic Pet Practice. 
"Life is meant to be lived, and I have not forgotten my promise to my 12-year-old self — experience life," Mitchell said. "Discovery allows us to uncover the hidden, so I can often be found out and about overturning stones."
This event is part of a series of seminars hosted quarterly by the School.
"The South Campus Speaker series brings in scholars who are difference-makers in the areas of Agricultural Sciences and Forestry," McConnico said. "A key goal of the academic programs at South Campus is steering students into exciting areas of study and research where they will be difference makers."
This event is co-sponsored by Alpha Zeta, the Louisiana Tech Pre-Vet Club, and the Louisiana Tech Student Chapter of The Wildlife Society. It is free to the public and a reception with light refreshments will follow. For more information, call the office of the School of Agricultural Sciences and Forestry, 318.257.4985.