Ray and Dorothy Young, whose four children first worked on the family farm as youngsters and then received their degrees from Louisiana Tech, have made a generous gift to support two professorships in the School of Agricultural Sciences and Forestry with a focus on Agriculture in Tech's College of Applied and Natural Sciences.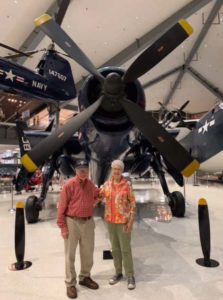 The Louisiana Education Quality Support Fund, established by the State of Louisiana, matches gifts of $80,000 with state funds of $20,000 to create $100,000 professorships; the Youngs have helped create two professorships.
"Ray and Dorothy Young are well-known in the agricultural sector for their work ethic, innovation, and integrity," said Dr. Gary Kennedy, dean of Tech's College of Applied and Natural Sciences. "It is an honor for us to receive two new endowed professorships that will be established in their name and their family's name. The professorships will allow us to attract and retain talented faculty, which in turn will be beneficial to all of our students. We very much appreciate the Young's strong support of our academic programs in agriculture."
Ray Young graduated from Tech in plant science in 1950 and began a family tradition as each of the Young's children became a Bulldog:
Tony R. Young, Class of 1977, Psychology. Dr. Young went on to become the Chester Ellis Endowed Professor in Education at Tech and manager of its Psychological Services Clinic;
Peggy Young Kallevig, Class of 1981, and Mary Young Jennings, Class of 1984, each a graduate in the School of Human Ecology;
Jesse Young, Class of 1984, School of Agricultural Science and Forestry; he followed his dad's footsteps and today works with his dad and manages the family farm.
Even before attending Tech, Ray had long been working in the profession he'd become professionally trained for in Ruston. At 14 years old in 1943, he was managing the family farm near Hico while his two brothers were away serving in World War II and his father was working away from home as a bridge builder; his father would come home most weekends to help prepare Ray for the next week of farm work.
He began checking cotton while as a college student in 1949 and today is America's longest-tenured crop consultant. For his decades of service to cotton and agriculture, he was recently named the 2019 recipient of the Southern Cotton Ginners Association Vandergriff Pioneer Award that recognizes those who have made contributions that represent industry-changing advancements; it's just the latest of the many awards he's earned, including his selection by his peers in the Louisiana Agricultural Hall of Fame.
Young has seen the wholesale changes in the industry. As a boy he farmed with mules; hardly anyone had a tractor. He's seen the eradication of the boll weevil, an advancement that "saved the cotton industry," he said, and major strides in the control of budworms and weeds due to advanced technology.
Among the largest innovations in the cotton industry during his career are the invention of the mechanical cotton picker, the cotton module builder, and gin-owned warehouses.
By him every step of the way has been Dorothy, a blueprint of what any consultant would want his companion to be. When the couple started out, Dorothy housed the young cotton checkers who worked for Ray and at one point was cooking hot breakfasts and suppers for as many as 18 people daily. She did everything from helping them clean their clothes to ordering flowers for their girlfriends, and at the same time she kept all the books, did the payroll, and paid the bills for the business.
"The Lord has blessed us," she said, "and we are grateful for that."
As the Youngs chose to do, alumni and friends of the University have the opportunity to take advantage of state matching funds and assist Tech in meeting a critical need — attracting and retaining outstanding faculty. The income from the endowed professorships is used to supplement faculty salaries and to provide faculty support, such as equipment and supplies needed for research.