The Louisiana Tech Chapter of the Sigma Xi Research Honor Society will host NASA senior scientist Dr. Compton James Tucker III for a free, open-to-the-public lecture in University Hall Room 134 at 3:30 p.m. Feb. 17.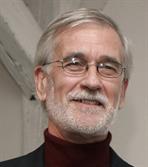 Tucker earned his BS degree in biological science in 1969, his MS in 1973, and his PhD in 1975, all from Colorado State.
As a postdoctoral fellow at NASA/Goddard in 1975-76, Tucker consolidated two near-infrared bands and adding a second short-wave infrared band to the thematic mapper instruments on Landsat-4 and -5, each a low orbiting satellite. He was also responsible for making the first and second bands on the Advanced Very High Resolution Radiometer imager discrete, enabling normalized difference vegetation index (NDVI) measurements from polar-orbiting meteorological satellites starting in July 1981.
Since becoming a NASA employee in 1977, he has used satellite data for famine early warning, desert locust control, terrestrial primary production, deforestation and land cover mapping to predict ecologically-coupled disease outbreaks, to map glacier extent, and to map climatic effects on global vegetation.
From 2002-12 he was active in NASA's Space Archaeology Program; he led a NASA team assisting archaeologists in mapping ancient sites with ground penetrating radar and magnetometers in Turkey at the sites of Troy, in the Granicus River Valley, and at Gordion, the home of King Midas.
Tucker has authored or co-authored more than 190 journal articles that have been cited 60,000 times by Google Scholar, is an adjunct professor at the University of Maryland, and is a consulting scholar at the University of Pennsylvania's Museum of Archaeology and Anthropology. He is a Fellow of the American Geophysical Union and the American Association for the Advancement of Science. He has been awarded NASA's Exceptional Scientific Achievement Medal, the U.S. Geological Survey's Pecora Award, the National Air and Space Museum Trophy, the Missouri Botanical Garden's Henry Shaw Medal, the Royal Danish Geographical Society's Galathea Medal, the Swedish Society of Anthropology and Geography's Vega Medal, and the Mongolian Friendship Medal. Tucker has also received a Presidential Award for Meritorious Senior Professional Service.