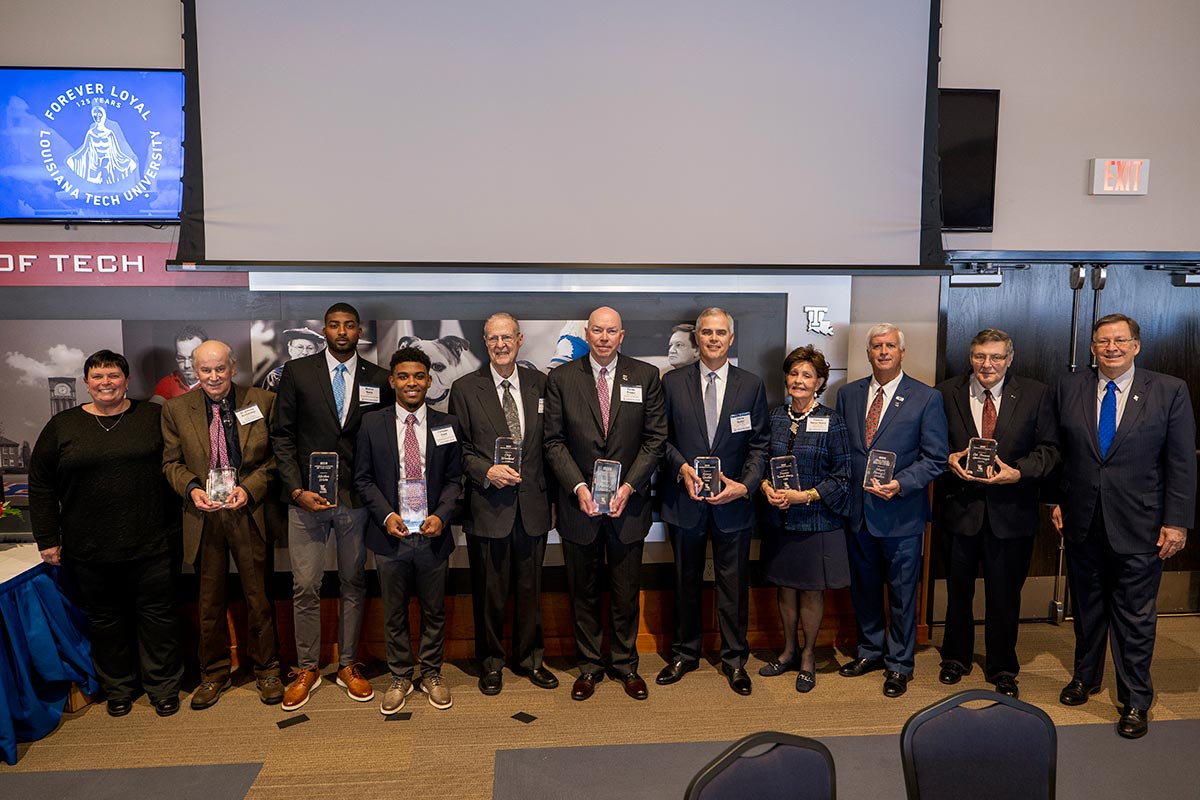 Each year, Louisiana Tech University honors Distinguished Alumni for their achievement in professional life, community life, and loyalty to the university. This year's distinguished alumni were honored at a luncheon on Nov. 8 at the Davison Athletic Complex.
Alumnus of the Year Randy Fowler ('78,'89) is President, Chief Financial Officer, and a director on the board of the general partner for Enterprise Products Partners. He earned a BS in Accounting in 1978 and his MBA in Finance in 1989 and serves on the College of Business Dean's Advisory Board.
New Orleans natives Nicholas Clark ('18) and Marlon Watts ('18), founders of WRLDINVSN, were named Young Alumni of the Year. Both young men are first-generation college graduates. Clark earned his BA in Graphic Design, and Watts earned his BS in Business.  
This year the Alumni Association also chose to award the Aris Scogin Distinguished Service Award to a member of the community who has shown exemplary care for the University, and the community of Ruston. Ronny Walker, Ruston Mayor since 2015, was recognized for nurturing the partnership between the City and the University and his part in assisting in recovery efforts after the April 2019 tornado. 
College of Applied and Natural Sciences Alumnus of the Year, Dr. Johnny Armstrong ('72), retired as a partner in a 38-year pathology practice in West Monroe and Ruston.
Kenny Guillot ('88 – Finance) of Merrill Lynch was named College of Business Alumnus of the Year. He is a former President of the Louisiana Tech University Alumni Association.
College of Education Alumna of the Year, Frances Turner Henry ('58,'70), taught for more than 22 years and served for seven years on President George Bush's No Child Left Behind National Commission.
College of Engineering and Science Alumnus of the Year, Mechanical Engineering graduate Chip Woodard ('54), retired after nearly 25 years of working for ExxonMobil. 
College of Liberal Arts Alumnus of the Year, Colonel Thomas Yarborough ('67- History), has earned the Silver Star, Distinguished Flying Cross, Air Medal, and the Purple Heart.