The Louisiana Tech chapter of the Sigma Xi Research Honor Society earned the First Place Chapter of Excellence Award for outstanding chapter performance for the 2018-19 fiscal year at the national organization's recent annual conference.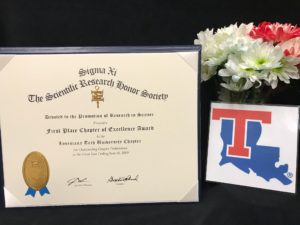 Second place went to the Centers for Disease Control and Prevention chapter. The Carnegie Mellon, Ohio University, and Virginia Tech chapters finished in a three-way tie for third.
According to the Sigma Xi website, SigmaXi.org, the award recognizes "chapters for exceptional chapter activity, innovative programming and true community leadership during the past year … Nominees were chosen by the Regional and Constituency Directors based on Chapter Annual Reports, and winners were selected by the Committee on Qualifications and Membership."
Selection criteria for the award includes the impact of the chapter's programs on the community, the level of innovation or initiative, the breadth and variety of programs, and the overall quality of the chapter's activities.
Members of the selection committee were particularly interested in the Louisiana Tech Sigma Xi Brown Bag Lunch Seminar Series, a quarterly event that encourages networking and collaboration among faculty and student researchers at Tech. The Chapter also hosts the quarterly Science Cafe and the annual Sigma Xi Distinguished Lecture Seminar.
"The Louisiana Tech Chapter of Sigma Xi is still young, so it was quite an honor to receive this award," Dr. Heidi Adams, Louisiana Tech Chapter President and assistant professor in Tech's School of Agricultural Sciences and Forestry, said. "It confirms we are doing great things with our chapter and motivates us to continue research networking and collaboration activities in the future."
Louisiana Tech Chapter Secretary Dr. Ashley Edwards, also of the School of Agricultural Sciences & Forestry, accepted the award on behalf of the Chapter at the Sigma Xi Annual Meeting and Student Research Conference held in November.