Chair of the ULS Board of Supervisors to give Winter Commencement Address
Mark E. Romero, Chairman of the University of Louisiana System Board of Supervisors and Executive Vice President of Brown & Brown Gulf States, will serve as the keynote speaker for the University's Winter Commencement Ceremonies at 10 a.m. Saturday, March 7, in Thomas Assembly Center on the Ruston campus.
A resident of New Iberia, Romero is an alum of the University of Louisiana at Lafayette, where he received a Bachelor of Science degree and MBA. He is a graduate of the Leadership Louisiana Class of 2009 and has held the designation of Certified Insurance Counselor (CIC) since 2003.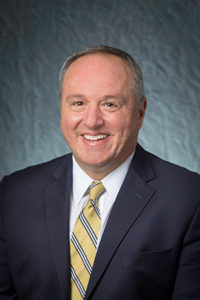 In his role with Brown & Brown Gulf States, a subsidiary of Brown & Brown Insurance, Romero is responsible for the performance and growth of operations and the development of teammates in Louisiana and Mississippi. Together with his team, Romero works with business owners, executives, human resource leaders, public officials, and individuals to find insurance and risk management solutions that help to protect what they value most.
Under his leadership, the Brown & Brown Gulf States office has grown to eight locations, seven in Louisiana and one in Mississippi. An awarded member of the company, Romero joined the Brown & Brown team in 2001 when the Louisiana-based agency, Huval Companies, was acquired by the top 10 commercial insurance brokerage firm, Brown & Brown Insurance. In addition to his role as Executive Vice President, Romero serves as a member of the Leadership Council for Brown & Brown, Inc.
An active member of the community, Romero was elected last year to the Board of Directors for LARC, a non-profit organization in Acadiana dedicated to serving the needs of citizens with developmental disabilities. Romero's past service includes the Board of Directors of Iberia Medical Center, Chairman of the Board for Epiphany Day School in New Iberia, member of the Agents Advisory Council for Louisiana Workers' Compensation Corporation (LWCC), and member of the National Agents Advisory Council for Affiliated FM.
Romero and his wife, Cindy, reside in New Iberia and have two children, Madison and Benjamin.