ECEC grant helps add layer of safety
Louisiana Tech's Early Childhood Education Center (ECEC) has received a two iPads and two laptops through a Technology Grant Award from the Children's Coalition for Northeast Louisiana. The new equipment will be a valuable aid in helping ECEC maintain state-required safety adjustments.
The Center is one of the many departments learning to navigate through reopening in regard to complying with state guidelines concerning COVID-19. Along with following these guidelines, ECEC has established extra innovative ways to keep teachers and students safe.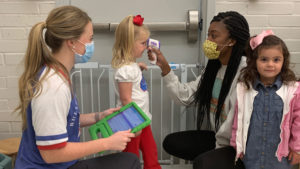 "In order to comply with guidelines mandated by the state, parents are not allowed to enter the center, which can cause a disconnect between the teachers and parents," said ECEC Director Laura Chestnut.
But with the new technology tools and the purchase of a childcare management software program, ECEC can do the following things:
Check children in and out digitally
Send weekly lesson plans virtually
Record student progress and milestones with parents
Communicate virtually with other staff members
Although the department has new technological tools to help create a cleaner environment for students, teachers, and staff are still performing basic precautions to care for the students, like these:
Deep cleaning the Center
Rearranging to keep children in tighter contact pods
Taking the children's and staff's temperatures regularly
Washing hands often
Wearing masks
Focus on the common fundamentals is still a key necessity at ECEC, even as the staff has implemented new ways of operating after months of closed doors.
Along with the teachers and students at ECEC, there are multiple other workers utilizing the new technology. Working and training at the Center is one College of Education resident, eight Human Development and Family Science students from the School of Human Ecology completing their practicums, one graduate assistant, and five student workers. The grant has allowed these students both to gain first-hand technological expertise and to see how businesses have had to adapt in the pandemic.
"We are attempting to show them how to use technology to streamline their work but also 'warm it up' so that interaction with parents is not sterile," said ECEC's Shannon Tatum, an instructor in Tech's School of Human Ecology.
As a student worker, Jaina Robinson, a graduating senior from Ruston, assists Chestnut throughout the day.
"This consists of guiding the children through learning activities and encouraging them to learn through play," said Robinson, who is completing her degree in Human Development and Family Science with a Child Development Specialist concentration. "The grant has given us the opportunity to have more effective communication with families, and the iPads have made student records much easier."
Fun fact: Robinson went to the ECEC as a preschooler and "is finishing strong at Tech by completing her last courses at ECES as a practica student," Chestnut said. "Not many people can say they finished college in the same place they began their school career."
As the days of reopening progress, ECEC continues to work hard and to keep each student in the cleanest environment possible.
"We are making it a mission," Tatum said, "to remain open on campus."