Tech Greenhouse back in bloom
Louisiana Tech's Greenhouse on South Campus, a collateral damage victim of the April 2019 tornado, celebrated its Grand Re-Opening under a Tech Blue cloudless sky Thursday, April 1.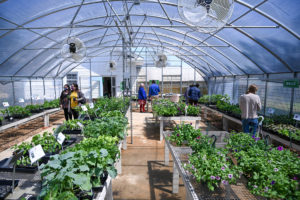 At 1 p.m., surrounded by customers, faculty, and friends, Tech President Dr. Les Guice and Greenhouse supervisor Lauren Hoffman cut the ribbon—appropriately green—and the Greenhouse was officially back in full bloom.
"This has been an empty hole for us," said Hoffman of the lack of a full-scale greenhouse for roughly 20 months. "I think it's been the same feeling for the community too; so many of our friends buy from us."
The 2019 tornado caused part of a tree to fall on South Campus, and it just missed the greenhouse.
"That was good," said College of Applied and Natural Sciences Dean Dr. Gary Kennedy. "Dodged a bullet by just a little bit."
The rest of the tree still standing looked healthy. It wasn't. A few weeks later, on a clear and windless day, the rotten rest of the tree fell.
"Right on the greenhouse," Kennedy said. "This time, not so good."
The insurance and bidding process was tedious, and when workers had planned to begin the re-build in late February, the snow and ice storm hit, causing another delay.
But Thursday, everything from snapdragons to basil to dianthus to gomphrena, Hoffman's favorite, were showing out in the comfort and safety of the new structure. Hoffman and assistant supervisor Hannah Roppolo, who teamed to grow everything for sale, had been working and selling out of a small room attached to the Tech Farm Salesroom.
Not any longer. For the past month, a prelude to Thursday's event, old customers have been coming back.
"Already," Hoffman said, "it's been a great spring."