ANS grad student Cone first place in BSSRC
College of Applied and Natural Sciences graduate student Jesse Cone of Minden won first place for his oral presentation at the virtual 21st Biennial Southern Silvicultural Research Conference (BSSRC) hosted in Starkville, Miss.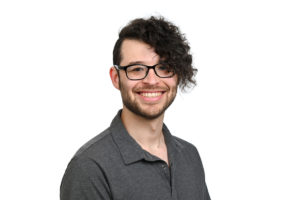 Louisiana Tech is one of only eight schools with three or more winners in the most recent 11 conferences and the only school with winners in each of the past two; 2019 spring graduate and forestry major Nathan Bolner won the same competition at the previous conference before Cone matched him this spring.
Pursuing an MA in Biology, Cone is working with Dr. Joshua Adams of Tech and Michael Blazier at LSU AgCenter Hill Farm Research Station on a USDA-funded project. Tech is collaborating with LSU, the U.S. Forest Service, and Indiana University of Pennsylvania on the project, established to understand how to prepare plantations for future severe droughts. The current study investigates whether the negative effects of drought can be reduced by thinning and/or using drought-tolerant genotypes.
"Jesse knows his stuff front to back and gave a great talk and was prepared to answer questions well," Adams said. "It helped that he was on the front end of the project, which will carry on for several years after he graduates. This year's conference was also the first time they had to do it virtually, which added a different level of difficulty."
"I think it helped immensely to be on the front-end of this year-long project," Cone said. "When I started I knew little about pine tree physiology, and starting off in the beginning gave me plenty of opportunities to ask questions and learn from my amazing mentors."
Cone's thesis focused on the interrelationship between the normal physical function of an organism—in this case, the loblolly pine—and its environment, specifically how things could be improved for pine trees in case of drought, especially in the Southeast region of the United States, known as the "Wood Basket" because it produces more timber than in any other region.
"We droughted three genotypes of loblolly pine and measured the effect of thinning and drought on leaf photosynthesis," Cone explained in his 12-minute presentation. "We did not find that drought or thinning had an effect on photosynthesis, but there were genotypic differences in photosynthesis. We were able to simulate drought for only about four months, so I'm glad that the project will continue so that drought responses become apparent as water deficits persist."
The day after finding out he'd won the BSSRC competition, Cone successfully defended his thesis for his Tech committee. He's set to graduate this spring and hopes to have a career in sustainable forest management; a job this summer working with the U.S. Forest Service in the Lake Tahoe National Forest in California will give him an up-close view at what such a career would look like.
"I hope that this position will facilitate my entry into public civil service," he said, "and that I will continue to work with the Forest Service in the future."
The BSSRC provides a forum for scientists and practitioners actively engaged in the broad field of silviculture—the growing and cultivating of trees—to report their study results, to present new concepts and techniques, to discuss topics of mutual interest, to coordinate cooperative efforts, and to stay current on developments in the field.