Spring 2021 Nursing Pinning Ceremony recognizes 39
Thirty-nine graduates received their professional Louisiana Tech nursing pins May 21, as Tech's Division of Nursing held its Pinning Ceremony for the Spring 2021 graduates in Howard Auditorium.
Each student was presented a commemorative Nightingale Lamp provided by Northern Louisiana Medical Center. The Pinning Ceremony culminates in the recitation of the Nightingale Pledge by the students.
Following spring commencement, the graduates become eligible to sit for the National Council Licensure Examination (NCLEX), the nationwide examination for the licensing of nurses in the United States and Canada, to become Registered Nurses.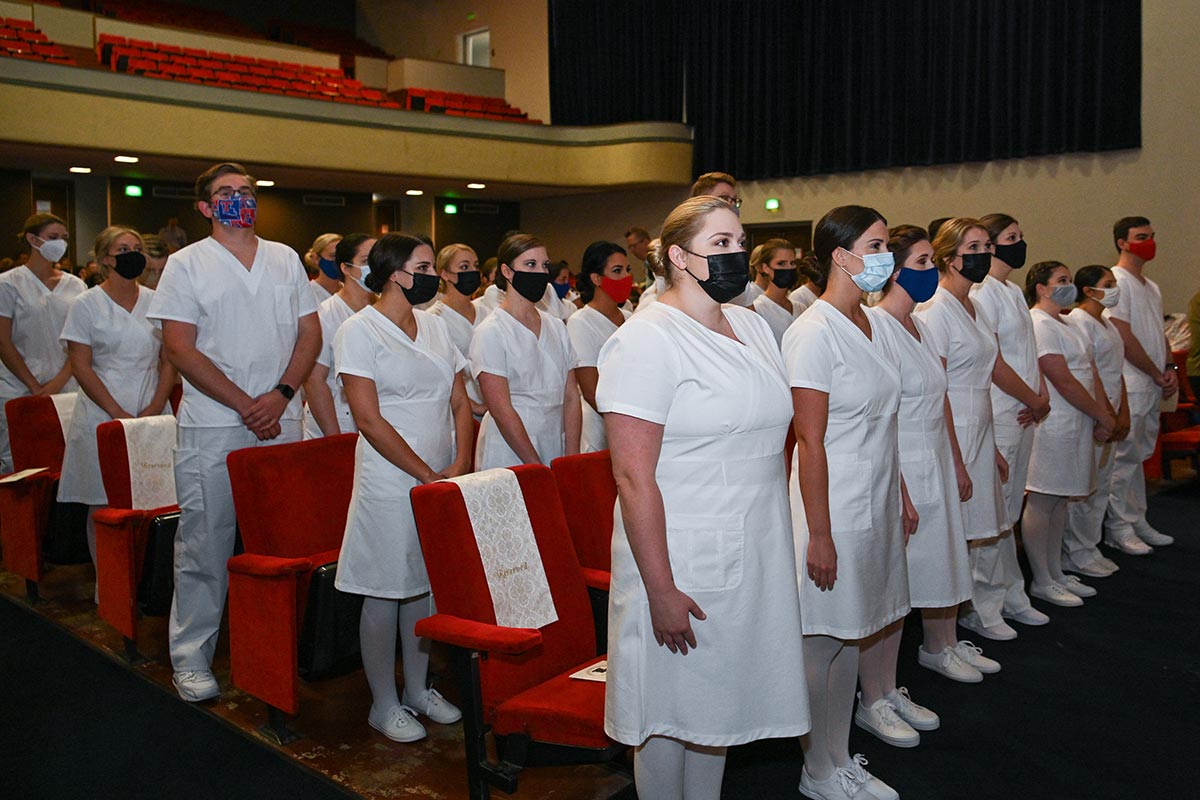 The 39 graduates are as follows:
Shelby Anders
Kendall Berney
Sierra Black
Elizabeth Booth
Aubree Bouwel
Cameron Brown
Bradley Clift
Brianna Coleman
Dalton Cook
Katy Craighead
Alyssa Deason
Caleb Edwards
Tiffany Dodson
Mandi Gresham
Kamryn Hamilton
Brandon Hearn
Lucas Hebert
Hayden Holley
LeeAnn Jones
Riley Kennon
Carley Kiper
Micah Little
Raven Meshell
Ainsley Osbon
Cora Pudwill
Karen Roller
Anna Claire Russo
Grady Sevier
Emily Sharp
Natalie Sims
Emma Smith
Sarah Snyder
Rebecca Speed
Madison Thomas
Shannon Toddy
Lauren Tompkins
Rita Tullos
Kimberly Tumey
Ronni Peyton Wolfe
Here are Friday's special awards and winners:
Academic Excellence: LeeAnn Joones
Nursing Tenets of Tech: Mandi Gresham
Spirit of Patient Care: Dalton Cook, Kimberly Turney, Rebecca Speed, Kamryn Hamilton
Teamwork and Collaboration: Mandi Gresham
Ambassador Recognition: Dalton Cook, Kamryn Hamilton, Sarah Snyder