Jaylen Mumphrey earns postbac spot with NIH
Louisiana Tech Associate Professor of Biological Sciences Dr. Jamie Newman was meeting with members of one of her graduate student teams in Newman's Lab last autumn when one of the newer members of the team began playfully picking on Jaylen Mumphrey, one of the team's veterans, for having her come to the lab on the weekend to complete a western blot, an analytical technique in molecular biology to detect proteins in a sample.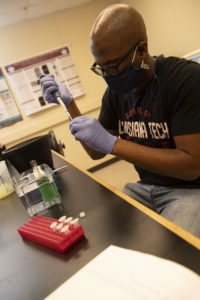 "I can't understand why you would want to spend your weekend in the lab," the student said.
"I can't understand," Mumphrey said, "why you wouldn't want to."
A self-professed "born scientist" who feels at home in the lab, Mumphrey is assured of more time there when he begins the National Institutes of Health (NIH) Postbac Intramural Research Training Award (IRTA) program in July in Bethesda, Maryland, an opportunity that allows the Dallas native to spend one or two years working full-time and side-by-side with some of the leading scientists in the world in an environment devoted exclusively to biomedical research.
"Jaylen is an amazing example," Newman said, "of what can happen when you take chances, push yourself, and reach out to people."
"The thing that wakes me up in the morning is the process of doing science," said Mumphrey, who went to high school in East Texas and earned his BS in biology from Northwestern State before coming to Tech to earn his master's. "Everyone wants great results, but no one likes doing the work. I love the process of doing science. I love to go into the lab and complete assays, observe what happens, and think about what happened.
"Again, good results are appreciated," he said, "but I love when things don't work so that I can go in and critically think about where things went wrong so that I can try to 'solve the problem.'"
Newman asked Dr. John Stewart IV to mentor Jaylen through the University's new Alumni Mentoring Program. Stewart graduated from Tech with a BS in zoology in 1991 and went to medical school at Howard University in Washington, D.C., where he also participated in research at the NIH. He spent another four years in research labs at the National Cancer Institute and today is a practicing clinical scientist at the University of Illinois College of Medicine but also is actively involved in researching novel therapies for the treatment of cancer.
After email exchanges and Zoom meetings, Stewart suggested Mumphrey apply for the NIH program. When he was accepted, Mumphrey told his advisor and instructor, "Dr. Newman, things like this don't happen for people like me."
"I think of myself as an unlucky guy in general, so I do not feel that opportunities of this magnitude present themselves to me," Mumphrey said later. "Secondly, as a black man, I did not see any black scientists in my community while I was growing up. With that being said, since I never saw anyone who looked like me in science, to have an opportunity to work at one of the top research facilities in the world seemed far-fetched or near impossible."
Stewart sensed both Mumphrey's openness to a different experience and also his need for that. Also an African-American, Stewart had no black professors at Tech, but he did know African-American doctors in Shreveport "and they helped me," he said, "know what I could achieve."
Stewart also had mentors who encouraged him to go to school in the east so he'd be close to the NIH.
"It sent me on a different trajectory," Stewart said. "I needed to be planted. It's the same thing for Jaylen. It's hard to 'be it' unless you can 'see it.' He needs to be around scientists who look like him and have had similar experiences and have risen to the top of their professions. This is an amazing opportunity for Jaylen in that it'll change the way he thinks about science and potentially change his career trajectory.
"He needs to be planted," Stewart said. "Hopefully, the NIH will be fertile soil so he can bloom."
Mumphrey is very aware of the magnitude of the opportunity, grateful Stewart told him about the program, and happy that Newman "holds me accountable," he said, "sets high expectations for me, and pushes me to be a great scientist. She gets all the credit."
Mumphrey sees himself "in someone's lab" in five to 10 years from now, "working on groundbreaking research," he said. "Or the alternative is that I will have finished my PhD and will be running my own lab, producing groundbreaking research."
"I have no doubt that Jaylen has the skills, dedication, and talent to be a great scientist, and I believe he will thrive in an environment where there are others like him who share his love for science, research, and learning," Newman said. "He has yet to see what research can really be. A year in a laboratory at the NIH will open doors for Jaylen he never knew existed, and each of those experiences and opportunities will be valued in a way I'm not sure many others can appreciate."