VISTA Center students illustrate first book of 'Journey Towards a Better World' series
Even before graduating with their Bachelor of Fine Arts degrees from Louisiana Tech, two School of Design students have illustrated the first in a series of books in collaboration with The Inspire Project through Tech's VISTA Center.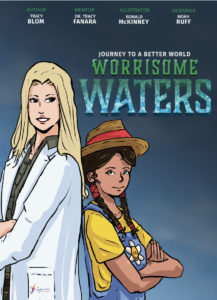 Studio Art major Ronald McKinney of Shreveport and Graphic Design major Noah Ruff of Ruston, now seniors but juniors as they worked on the series this year, teamed up with author Tracy Blom of Ohio to create Worrisome Waters, a just-released science-packed fictional story about cleaning up polluted lake water that is threatening the local community.
Each book in the series titled "Journey Towards a Better World" will illustrate how children can help the world by connecting to The Inspire Project to make an impact.
Each book also features a real-life mentor, in this case environmental engineer, scientist, public speaker, and television host Dr. Tracy Fanara, who manages U.S. coastal ocean modeling efforts and is a research scientist for the National Oceanic and Atmospheric Administration (NOAA).
In Worrisome Waters, Fanara and her young friend Emma educate readers on water pollution, causes, and possible solutions.
Founded in 2017 by Dr. Todd Brown, a former U.S. Congressional Teacher of the Year and guest for Louisiana Tech's Biological Sciences Seminar Series, The Inspire Project exists to empower students to become leaders today through innovative mentorship and action. It connects students with achievers worldwide to have meaningful, student-driven discussions.
"This is not a project; this is recognizing that we are creating an educational revolution that will alter the way students are taught and engage with material for years to come," Brown said. "We are simply hoping to provide a platform for students and teachers across the world to pay it forward, regardless of who they are or where they live."
Tech's VISTA (Visual Integration of Science Through Art) Center allows faculty from Art, Biology, and Biomedical Engineering to work together to offer students a unique opportunity to communicate science through art; "Journey Towards a Better World" is a prime example.
The project began when Tech's School of Design professor Nick Bustamante and associate professor of biology Dr. Jamie Newman pitched the idea to Brown.
"The entire team is impressed with the results (of Worrisome Waters),'" said Bustamante, who thanked both Brown and Blom for "agreeing to take a chance on our students" in the creation of something that will have a positive impact on students the illustrators will never meet.
"Collaboration is the cornerstone of education," Brown said. "The combination of being from Louisiana myself, having family in Monroe, and being welcomed into the Tech Family, it is a great opportunity to work with amazing human beings.
"We all work in a field of shared knowledge and it's our obligation to provide meaningful experiences at every level. Presenting a space for Tech students not only to gain class credit, but also to work in the 'real world' allows for them to get a jump start on a potential career. We are not interested in building future leaders; we are interested in helping guide students to be leaders right now."
The Art Director for the project and one of McKinney's professors, Bustamante introduced the project to McKinney during an advanced digital painting class and asked if he wanted to "take the risk and work on it." McKinney immediately said yes, then later explained the project and the book's purpose to Ruff and said he was interested in having a graphic designer help with the workload for this freelance/intern position.
The two became partners and are "extremely" and "tremendously" pleased with how the project came out.
"There are some areas that can be improved for the next book, but for the first go-round, I'm ecstatic about the outcome," McKinney said.
"There were some bumps along the way simply because I had never done a professional job like this before," Ruff said, "but everyone from Dr. Brown to Tracy Blom to Dr. Fanara and Dr. Newman and Nick made the process as enjoyable as possible. The work speaks for itself. It feels fun and complete because making it was truly a blast."
Ruff created the "visual blocks" with some very rough ideas to go into each "block," then McKinney "took those ideas to the next level," Ruff said. "There was a very strong collaborative spirit between the studio and graphic aspects of the book."
"Noah went through and did the structure and pieced together how the book would flow," McKinney said. "Then my part was to come in and create the illustrations for each page to the best of my ability. We have a great workflow dynamic."
Louisiana Tech is the only university connected with this project. Bustamante has already begun the selection process for the next Tech VISTA team — but McKinney and Ruff will always be the "originals" who first presented their work as part of the University of Louisiana System (ULS) Academic Summit in the spring.
"I was the Art Director, but I also used this as an opportunity to teach these students about the business side of art and how to work with a group of professionals from a wide range of disciplines," Bustamante said. "Ron and Noah worked tirelessly on the project and have proven that undergraduate students are capable of taking on a project on this size. They have paved the way for additional Tech students to get involved in future book projects."
The book project is a perfect example of the strength of interdisciplinary programs at Louisiana Tech, said Tech President Dr. Les Guice.
"External connections to business and industry and the rich experiences that come from them show the power of collaborative learning experiences," Guice said. "This type of activity enriches an academic curriculum and demonstrates to our students the possibilities for future careers. They empower our students to be leaders and lifelong learners."
The book is available through Amazon , and all proceeds from the book will go directly back to The Inspire Project and the VISTA Center to continue supporting students, outreach, and education.
Contact VISTA if you would like to buy in bulk or donate a class set to a school.