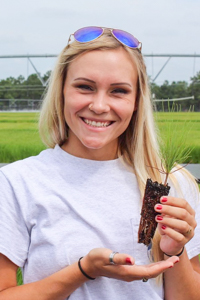 Alana Grace Sullivan of Transylvania is a Forestry major with a concentration in Wildlife Habitat Management at Louisiana Tech University.
She loves the outdoors and has always wanted to work with wildlife.
"My Forestry education here at Louisiana Tech is most certainly preparing me for my future career with wildlife and forestry practices," Sullivan said. "I struggled with the path I wanted to take in school for a little while as most do, but when I joined Forestry, I felt right at home. I have learned so much here on South Campus and know that no matter what career path I choose within Forestry, I will always have a solid foundation."
In her future, Sullivan wants to study various bird species in an aviary and to promote population growth in those species.
"I am always open to wherever this profession will take me," she said. "I will always be grateful for the opportunities Louisiana Tech has given me to ensure I have a very successful future."