After earning a bachelor's degree in 2012 from the University of Louisiana at Lafayette, Ashley Evans Angelle began working in health care. She worked in a number of areas – credentialing, recruiting, revenue cycle, and marketing – and always enjoyed working behind the scenes.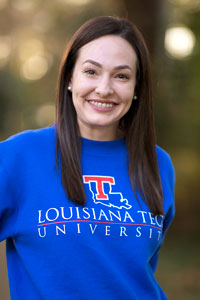 "My driving force in going back to school came from my time spent in revenue cycle," Angelle said. "I liked trying to figure out how to streamline processes and make them more efficient. I wanted to soak up as much knowledge as possible."
So she enrolled in the Health Informatics and Information Management program at Louisiana Tech and was able to stay at home in Lafayette because of the online component that is offered. 
"Our instructors have always made me feel like I was not only a student but part of a family where we're all cheering each other to succeed – southern hospitality, evident as ever," Angelle said. "As an online student, I couldn't ask for more. My questions have never gone unanswered, whether it's been resolved through email, a phone call or even through a Zoom meeting. The structure is set up like a traditional classroom, which is helpful in keeping me on track.
"Being a full-time student and worker and mom and wife isn't for the faint of heart! It's taken me some time to transition from a semester system to a quarter system, but I've learned how to effectively manage my time. I am so proud to be in this program and beam with pride every time someone questions what I'm in school for."