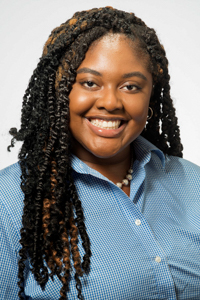 Jackson native Ashlynn Taylor is a third year Nutrition and Dietetics major at Louisiana Tech University. She will graduate in May 2021 with a Bachelor's Degree in Nutrition and Dietetics.
Taylor is a campus student leader involved in many campus organizations. She is vice president of the Black Student Union, Campus Activities Director of the Student Government Association, and the Event Coordinator of the Student Dietetic Association. She also serves as a Human Ecology Ambassador, a Student Recruiter, and the Office of Multicultural Affairs student worker.
"Being a student at Louisiana Tech really brings me joy and happiness," Taylor said. "My favorite thing about Tech is the family atmosphere that is here. I love that the campus feels warm every day from the love that everyone displays."
After graduation, Taylor plans to complete the Dietetic Internship at Louisiana Tech University. Her goal is to become a Registered Dietitian and give back to East Feliciana Parish in hopes to fight food insecurity and educate people about the importance of good nutrition and having a better quality of life.